According to WSTS, the semiconductor market declined 0.8% in the second quarter of 2022 compared to the first quarter of 2022.
Revenues for the top 15 semiconductor suppliers for the second quarter of 2022 were in line with the overall market results, down 1% from the first quarter of 2022.
The companies' results were mixed.
Memory suppliers SK Hynix and Micron Technology led the way with revenue growth of 13.6 percent and 11.0 percent, respectively, for the second quarter of 2022. AMD's revenue grew 11.3 percent, primarily due to its acquisition of Xilinx.
The worst performers were Nvidia, down 19 percent due to weakness in its gaming business, and Intel, down 16.5 percent due to weakness in the PC market.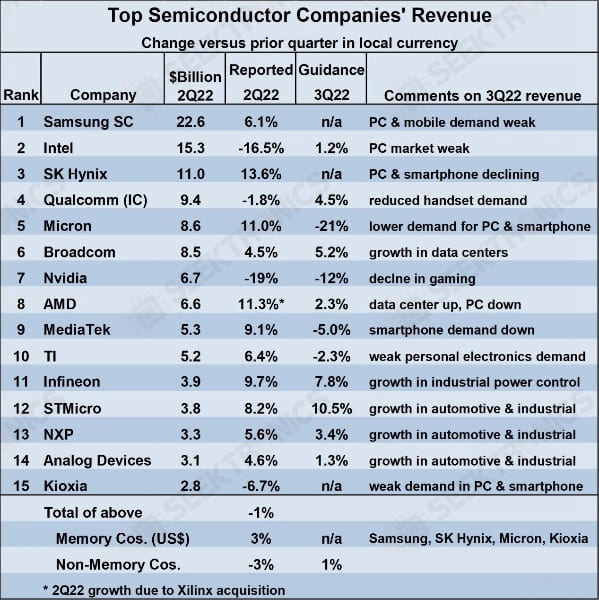 The outlook for the third quarter of 2022 is also mixed, Semiconductor Intelligence (SI) said.
The strongest growth is coming from companies that primarily provide analog ics and discrete devices. Stmicro has the highest expectations, with its third-quarter 2022 revenue expected to rise 10.5% from the second quarter of 2022.
This was helped by strong overall demand, particularly in the automotive and industrial sectors.
Infineon Technologies, NXP Semiconductors, and ADI are also expected to benefit from the automotive and/or industrial segments, with revenue growth expected in the third quarter of 2022.
ADI's revenue exceeded $3 billion for the first time in the second quarter of 2022 (primarily due to the acquisition of Maxim Integrated Products last year).
The weak smartphone market is likely to be a major factor in Mediatek's revenue decline in the third quarter of 2022.
Gaming continues to be weak, with Nvidia forecasting a 12 percent decline.
The biggest drop in Q3 2022 revenue will come from memory companies. Micron Technology shares fell 21 percent. Samsung did not provide specific revenue, but Dr. Kye Hyun Kyung, head of Samsung's semiconductor business, said the second half of 2022 "looks bad".

The weakness in the smartphone and PC markets is reflected in IDC's recent forecasts. Smartphone shipments are expected to decline by 7 percent in 2022, after growing by 6 percent in 2021.
Smartphones are expected to recover to 5 percent growth in 2023. Due to COVID-19, PC growth of 13% in 2020 and 15% in 2021 is expected to decline by 13% in 2022 and 3% in 2023.
Autos remain healthy, with LMC Automotive forecasting light vehicle production to grow 6.0 percent in 2022 and 4.9 percent in 2023.
The global economy is dragging down the semiconductor market
The global economic outlook is another factor slowing the semiconductor market.
The SI model predicts that a 3 percentage point deceleration in GDP growth will lead to a 16 percentage point deceleration in semiconductor market growth.
SI's current forecast of 5% semiconductor growth in 2022 represents a 21 percentage point deceleration from the 26% growth forecast for 2021. Global GDP is expected to show a sustained deceleration of 0.3 to 1.0 percentage points in 2023.
However, a global recession is still possible. The survey put the probability of a recession in the next 12 months at 48 percent in the US and 80 percent in the eurozone.
SI's forecast of 5.0 percent semiconductor market growth in 2022 is the lowest among recent public forecasts.
Other recent forecasts for semiconductor market growth in 2022 range from 6% (Future Horizons) to 13.9% (WSTS).
The semiconductor market is likely to see at least five consecutive quarter-on-quarter declines from the first quarter of 2022 to the first quarter of 2023.
If the global economy is not weaker than current expectations, the semiconductor market should recover modestly in the second half of 2023.
However, quarterly trends will push the market against 2023.
The SI forecasts a decline of 6.0% in 2023.
Future Horizon is the most pessimistic, with its August forecast of a 22 percent decline in 2023.
Gartner forecasts a 2.5% decline.
IDC and WSTS expect growth in 2023, but at a slower pace than in 2022.
IDC was 6.0 percent and WSTS 4.6 percent.
After 2023, the semiconductor market should stabilize toward the typical trend. Covid-19-related work stoppages and resulting supply chain disruptions will largely be resolved. Traditional market-driven smartphones and PCS should return to normal growth. Emerging applications such as automobiles and the Internet of Things will become increasingly important as market drivers.