Following the suspension of MCU orders by ELAN, Holtek Semiconductor issued a notice on 21st April suspending orders with immediate effect.
The price of various semiconductors, especially MCUs, has risen as a result of factors such as the tightness of 8-inch wafer foundries. The demand for MCUs is so high that many major MCU manufacturers at home and abroad are operating at full capacity, but supply still exceeds demand.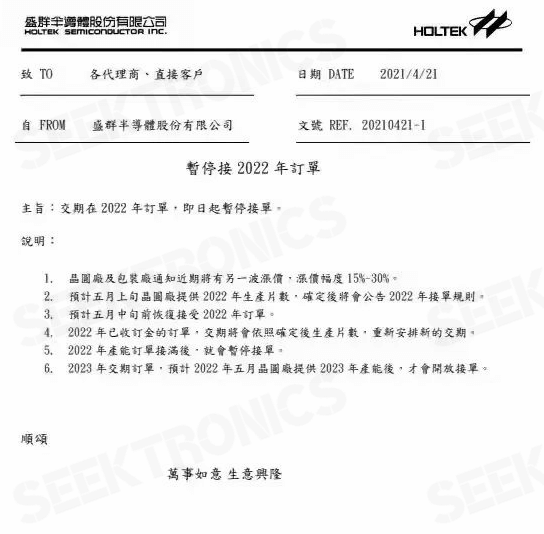 In its notice, Holtek Semiconductor stated that Suspension of orders for 2022
Subject: Orders with delivery dates in 2022 are suspended with immediate effect.
Description:
1. The wafer fabs and packaging houses have advised that there will be another wave of price increases in the near future - price increases of 15%-30%.
2. The fabs are expected to provide 2022 production numbers by early May and will announce 2022 order acceptance rules when confirmed.
3. expected to resume accepting orders for 2022 by mid-May.
4. 2022 orders that have received deposits will be rescheduled according to the confirmed production numbers.
5. Orders for 2022 will be suspended when the production run is full.
6. Orders for 2023 delivery are expected to be opened in May 2022 after the fabs have provided capacity for 2023.
Publicly available information shows that Holtek Semiconductor's main products are 8-bit and 32-bit MCUs covering touch, health measurement, industrial control/instrumentation, computer peripherals, home appliances, automotive and security monitoring applications.
Previously, Holtek Semiconductor issued a product price increase notice, deciding to increase the price of all IC shipments by 15% with effect from April 1st. This is the first time in Holtek's history that a full price increase has been applied to its product lines.
From Holtek's current price increase notice, the main reason for the price increase is the rising cost of materials, mainly including the second wave of wafer fab price increases and packaging price increases.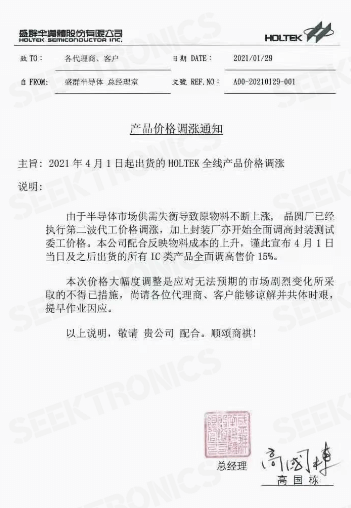 According to Taiwanese media reports, Holtek Semiconductor has said: "Due to the tight supply of wafer foundry and price increases, stimulating overseas customers to actively place orders early, the company's orders have now seen the first quarter of next year, some orders even a breath to June next year". The company pointed out that: "because of the tight 8-inch foundry capacity, and a succession of price increases, the foundry has informed next year's production capacity will be limited, many customers have begun to book orders for the first quarter of next year, even overseas customers also began to place orders early, has seen the first quarter of next year orders, the longest orders also see next June."
The company also said, "Due to the wafer foundry price increase, the company will also start the evaluation mechanism for different products, but at this stage first try to absorb the cost by themselves." Asked whether there were duplicate orders, Holtek believes that due to the tight production capacity, there are inevitably some duplicate orders, but the follow-up problem of duplicate orders will only be visible in the second quarter of next year at the earliest.
In addition to Holtek Semiconductor, this article counts 56 semiconductor-related manufacturers that have issued price increases or price adjustment statements
Semiconductor manufacturers latest price increase list
FMD
FMD Microelectronics stated in the notification letter that the cost of the whole line of FMD has increased recently due to the wafer fabs and packaging fabs increasing their cost one after another and the capacity continues to be tight. Based on the long-term good cooperation basis between the two sides, and to do our best to get the follow-up supply support, the company will do some degree of price increase for all products, please consult with the relevant salesperson for the specific price, subject to the quotation. All outstanding orders and new orders from agents must be executed from 12 April 2021 onwards.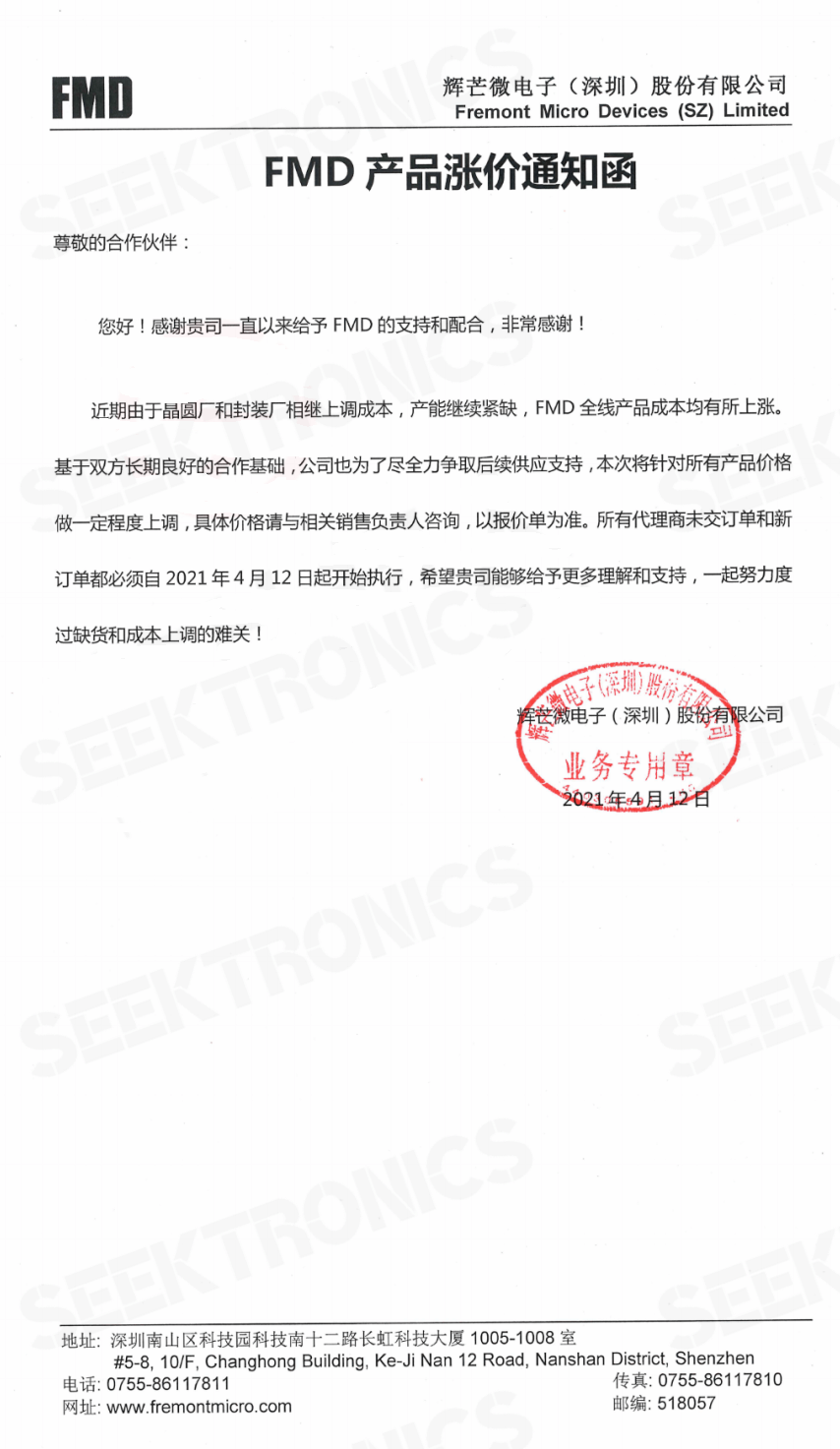 On April 7, global analog chip giant ADI (ADENO) notified agents by email that it will increase shipping prices for some of its products and that the new prices will take effect on May 16. ADI said that it had to increase shipping prices for some of its older products to continue to maintain this part of the manufacturing capacity.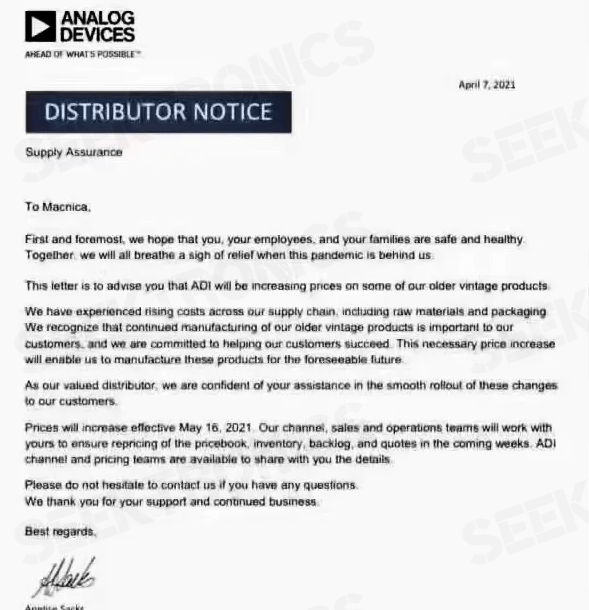 MindMotion
On March 26th, MindMotion released a "Communication Letter on Pricing Strategy". The communication letter stated that in the first quarter of 2021, MindMotion completed its commitment not to adjust the price of its products and received the approval of the market and customers. As supply chain conditions become increasingly tight and raw material costs. To secure supply chain capacity, provide stable supply and achieve continuous cooperation, the company has decided to adjust the prices of some products from April 1, 2021 after careful discussion.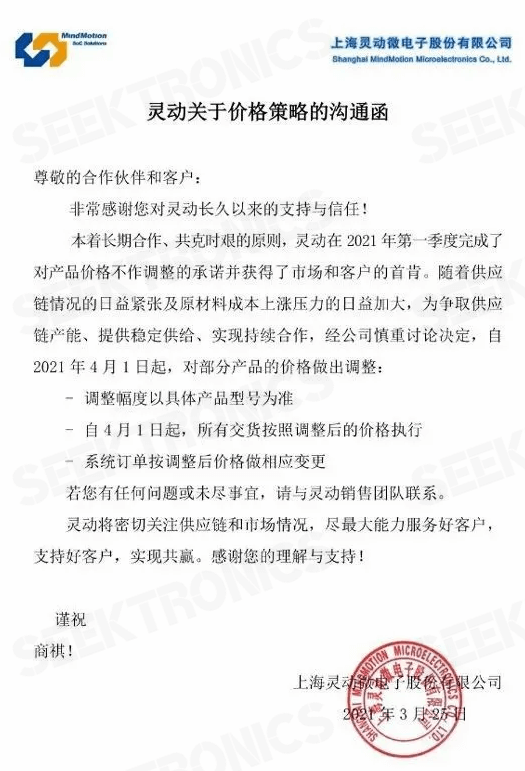 BPS(Bright Power Semiconductor)
Following the price increase letter issued on 1 April, BPS issued another price adjustment letter to the public on 15 April. From 19 April 2021, all orders previously in force but not yet fully delivered and new orders will be subject to the new adjusted prices, which will be valid from 19 April 2021 until the effective date of the next price adjustment notice letter and will apply to all orders shipped within the validity period.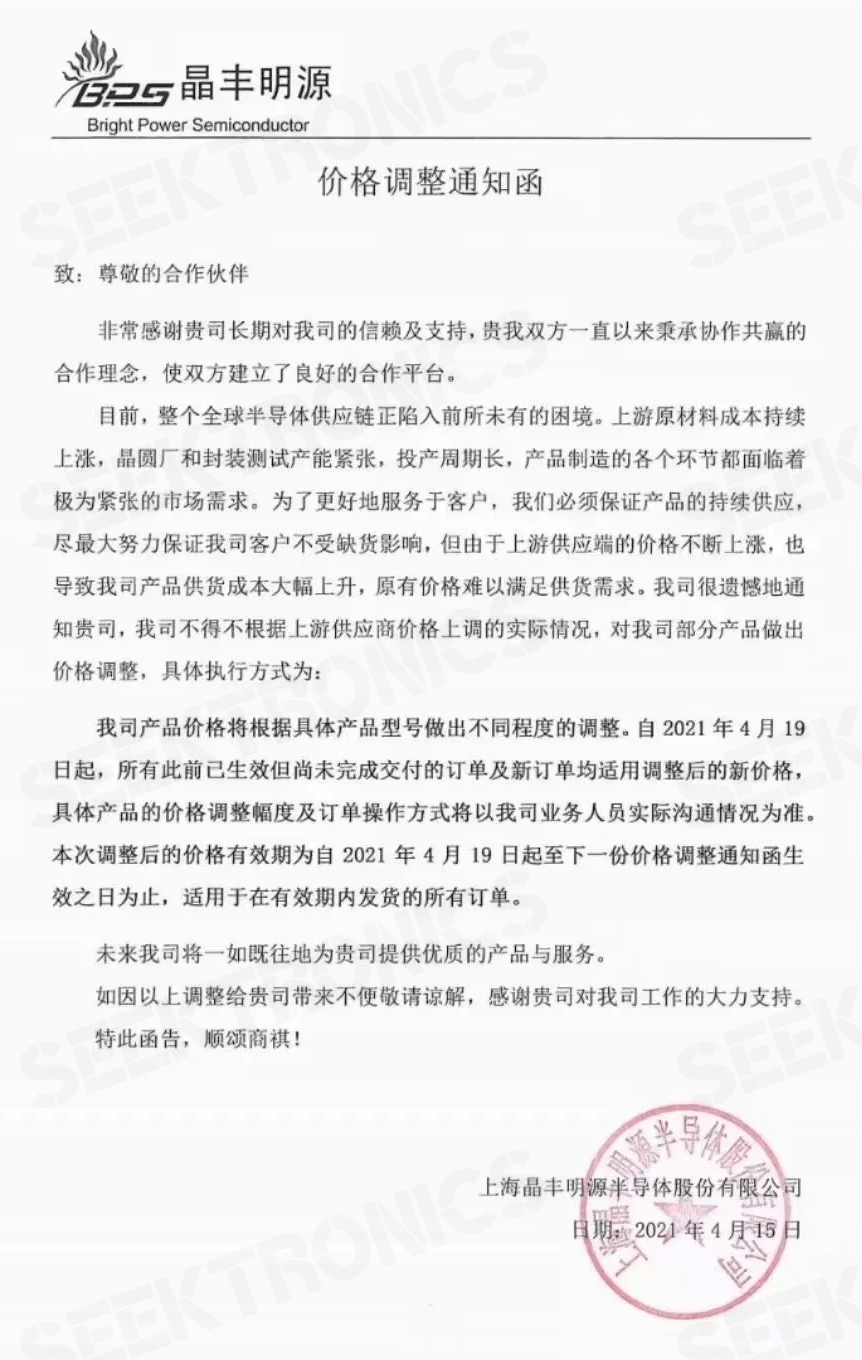 RUNJET
On April 6, RUNJET Semiconductor issued a letter of explanation on price adjustment, saying that the product price increase range is 5%-20%, depending on the actual product model; the price adjustment date is from April 8, 2021, and the orders and contracts signed before then still carry out the original price.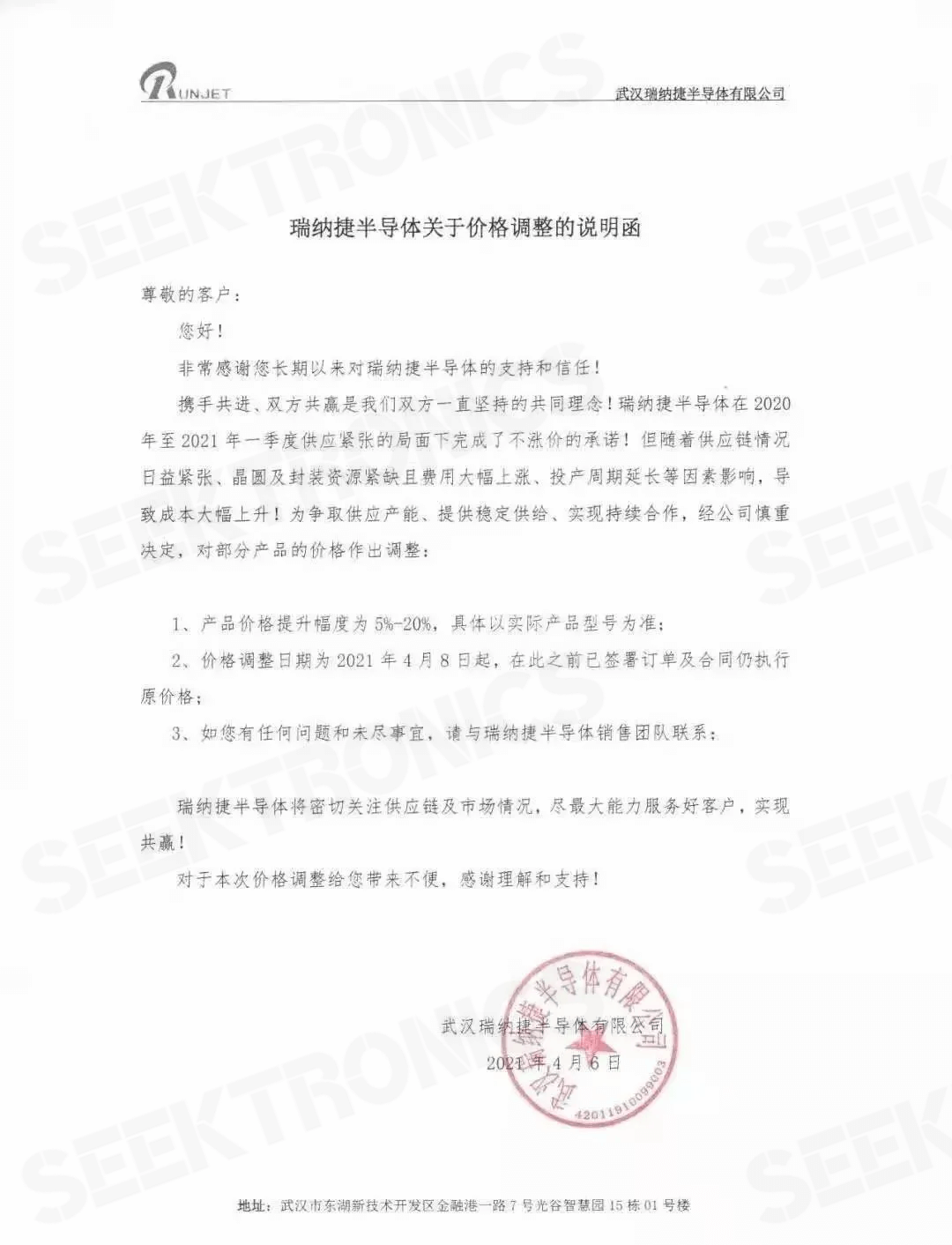 Mesilicon
In the notice, Mesilicon stated that all deliveries will be carried out at the adjusted price as of 6 April 2021. Undelivered orders already in the system will be executed at the new adjusted price.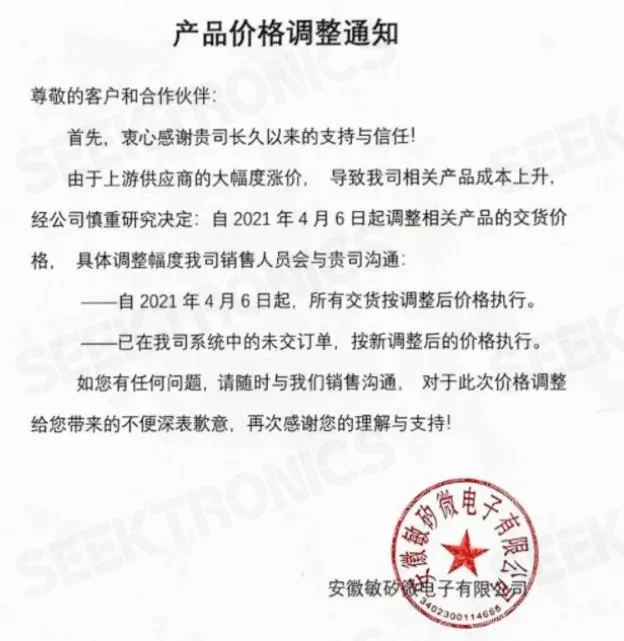 Nanya
Nanya increased by 15-20% from 1 April.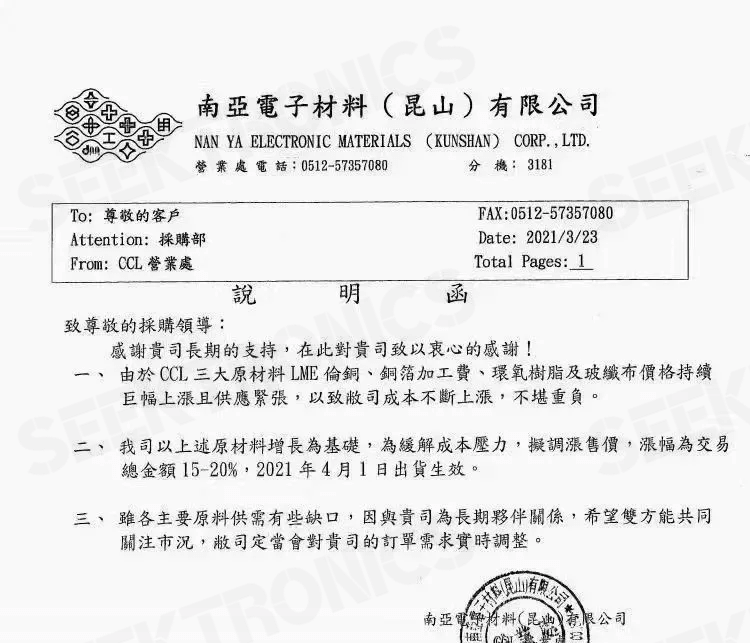 ALLEGRO
ALLEGRO will increase its prices from 1 April.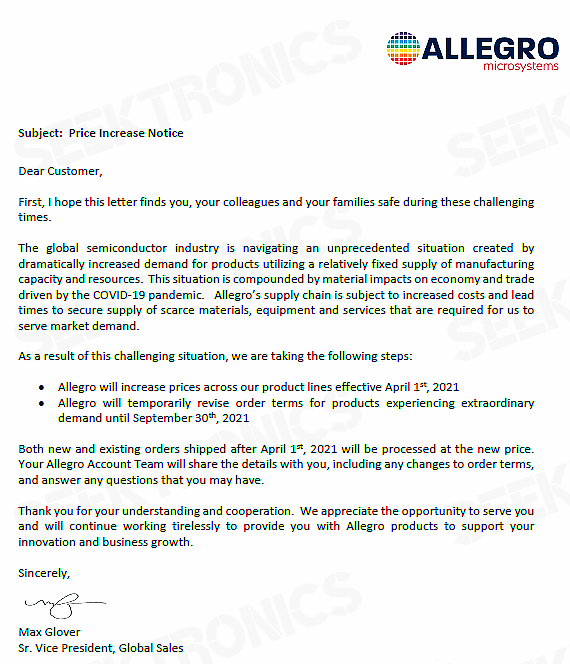 Shinetsu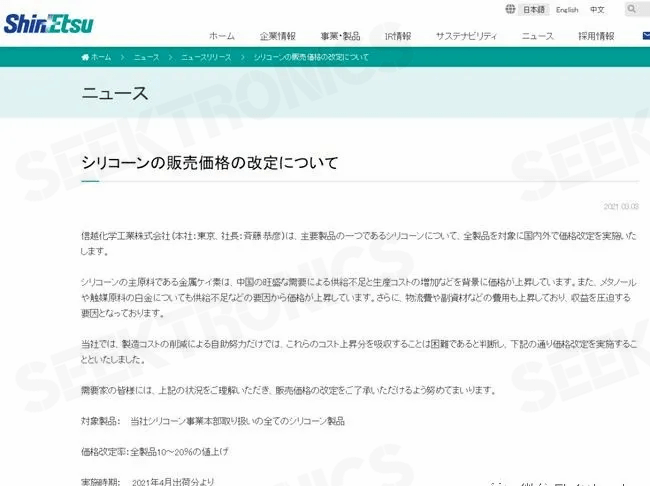 Eternal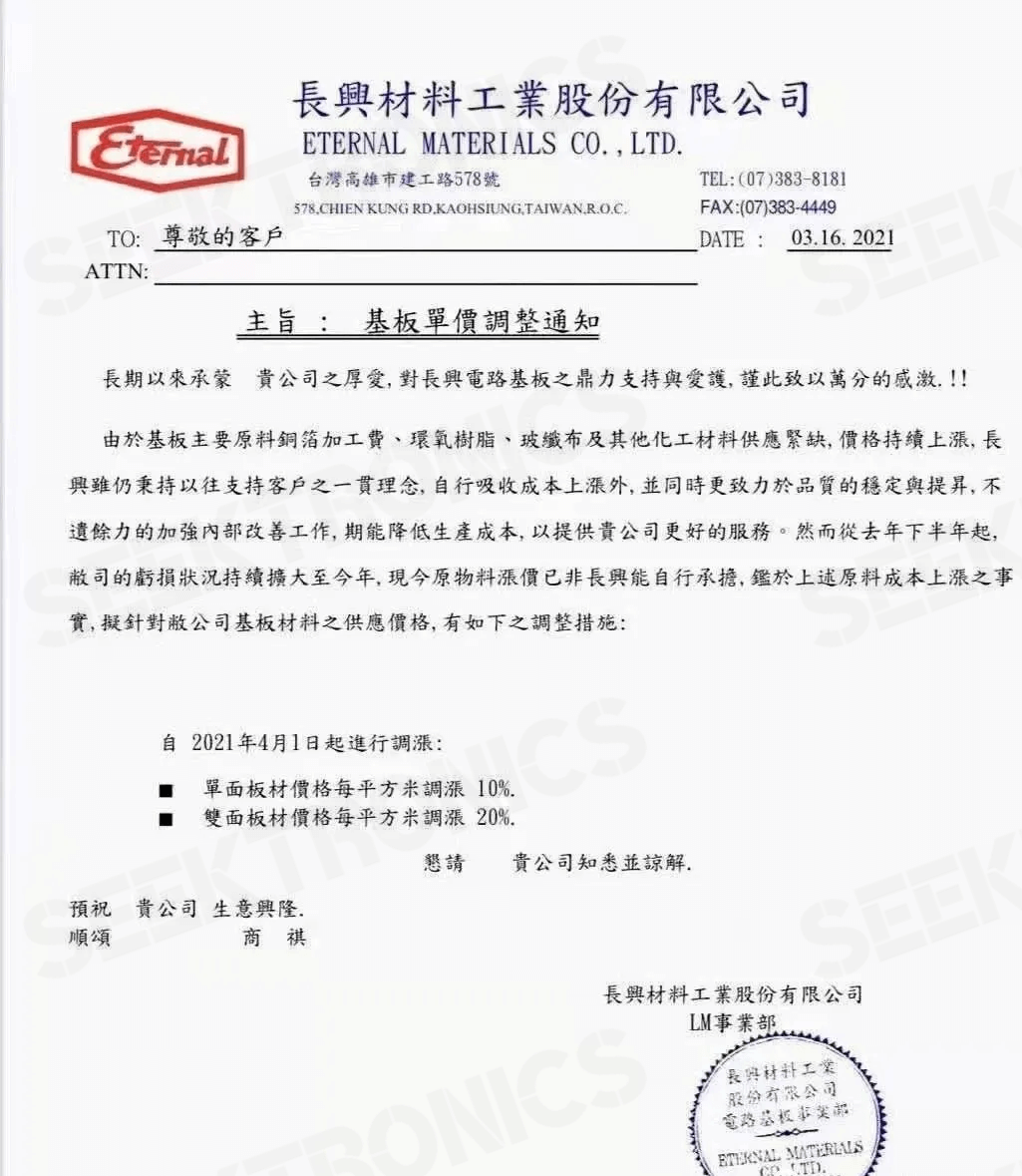 ITEQ
Rockchip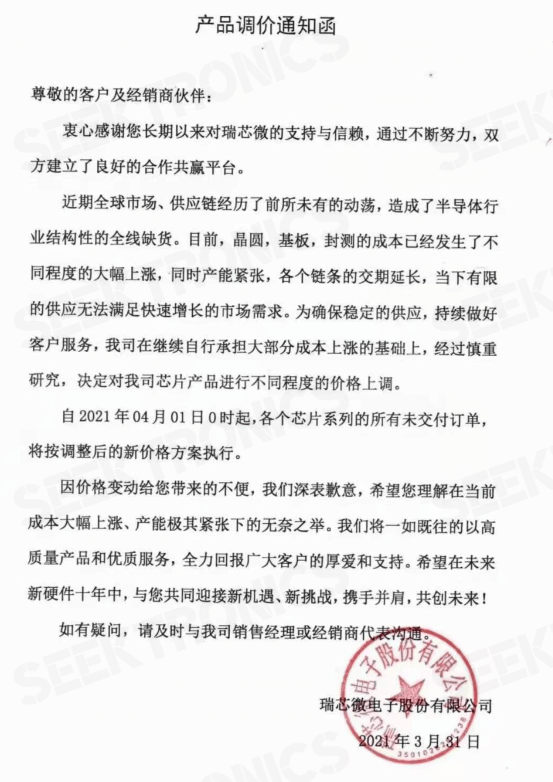 Youwang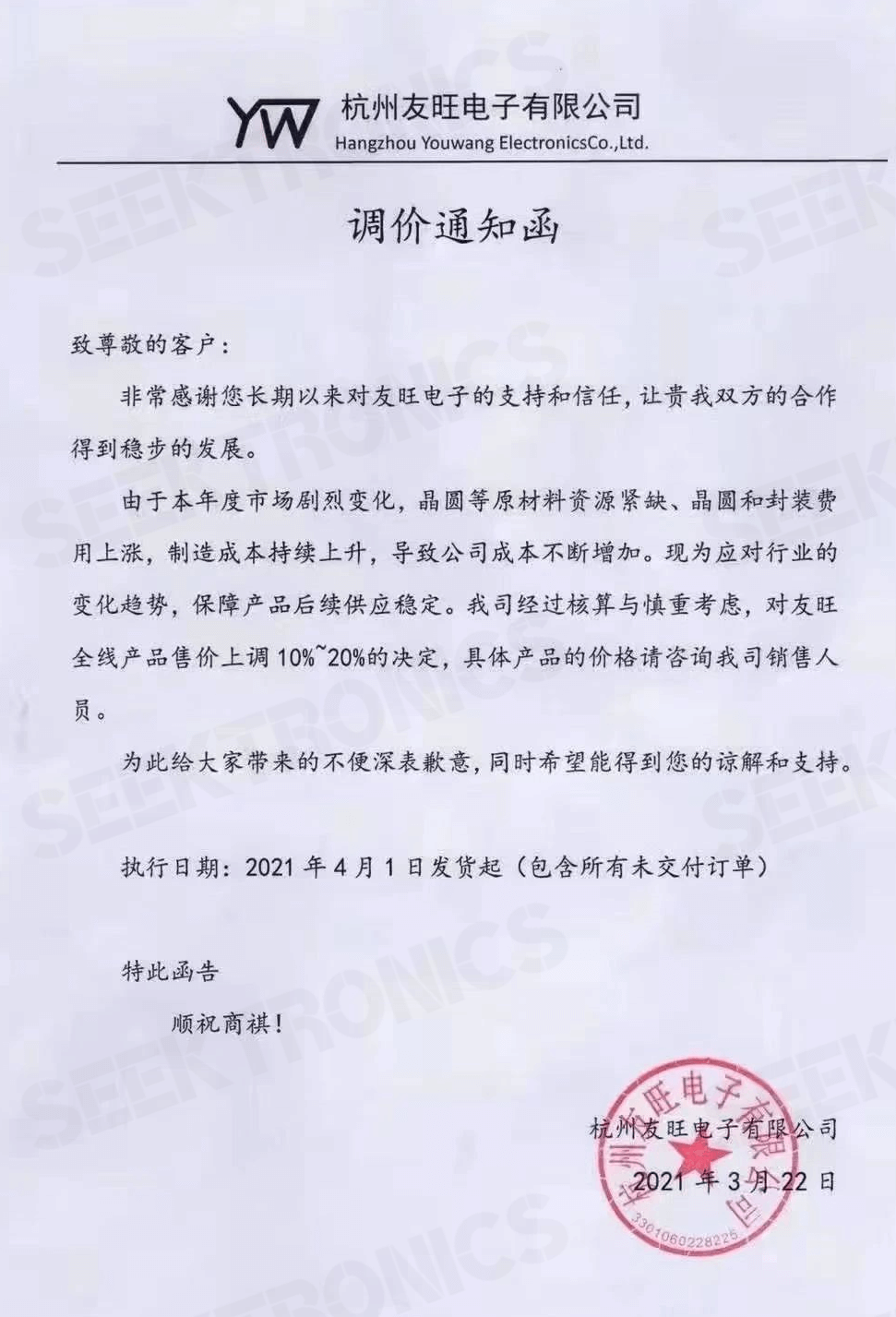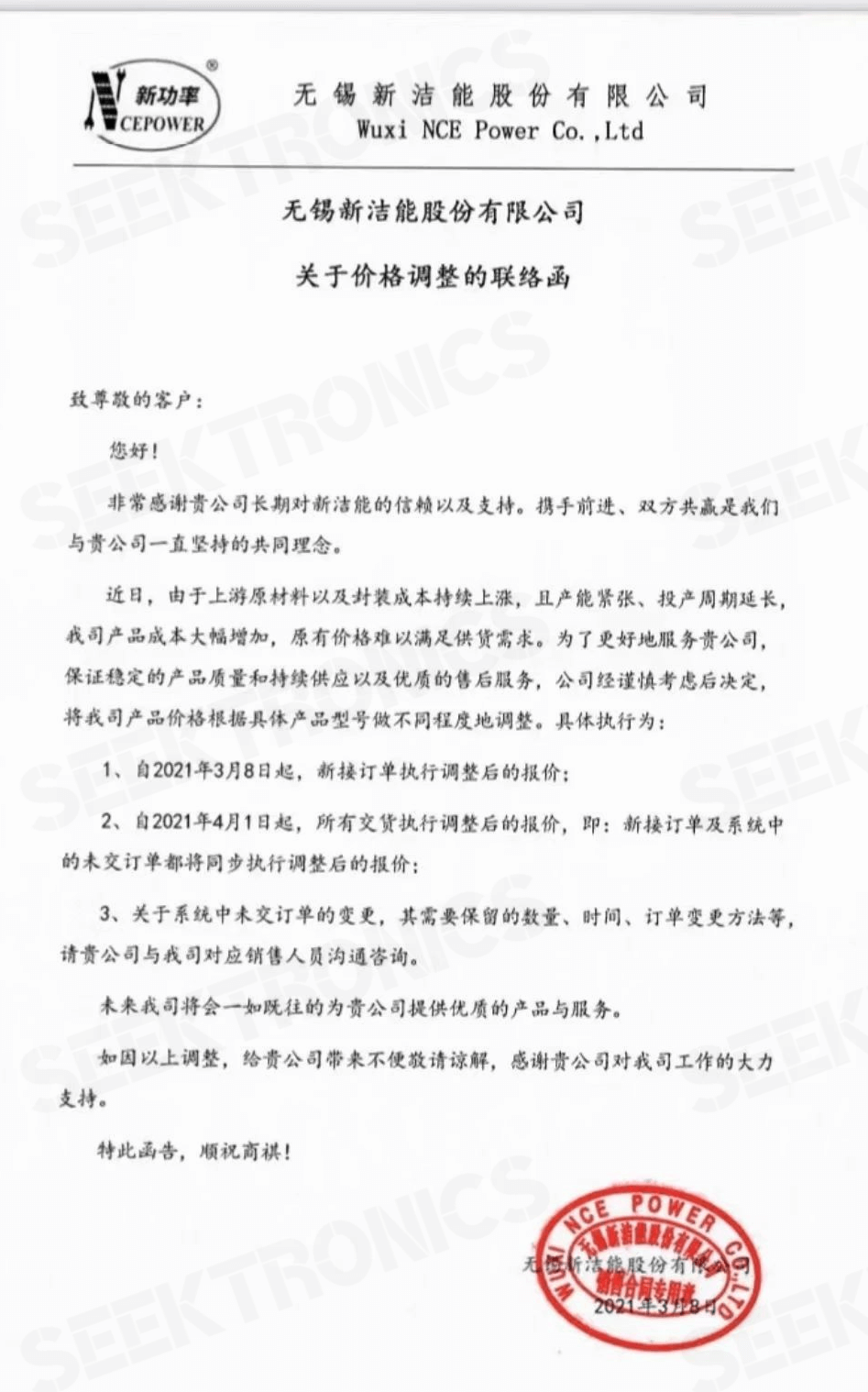 Sunmicro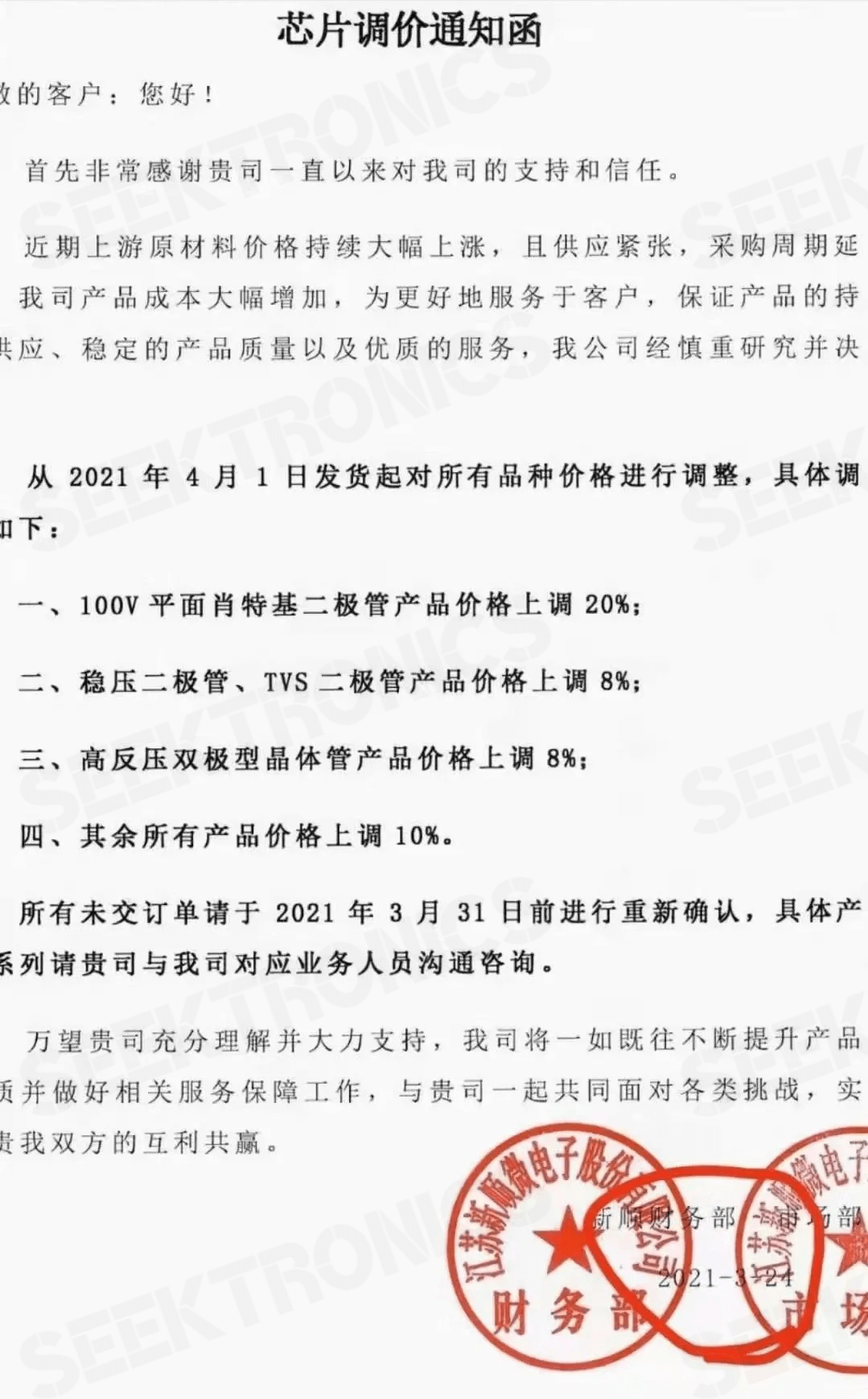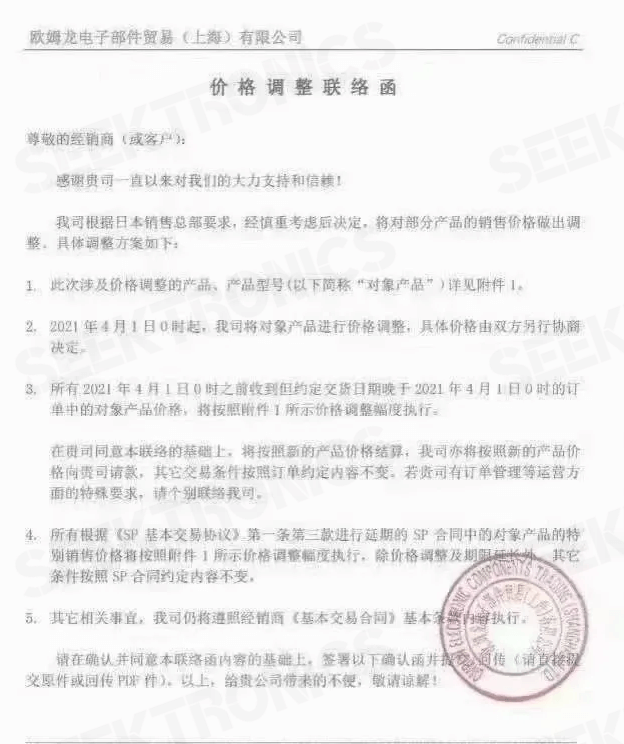 Soway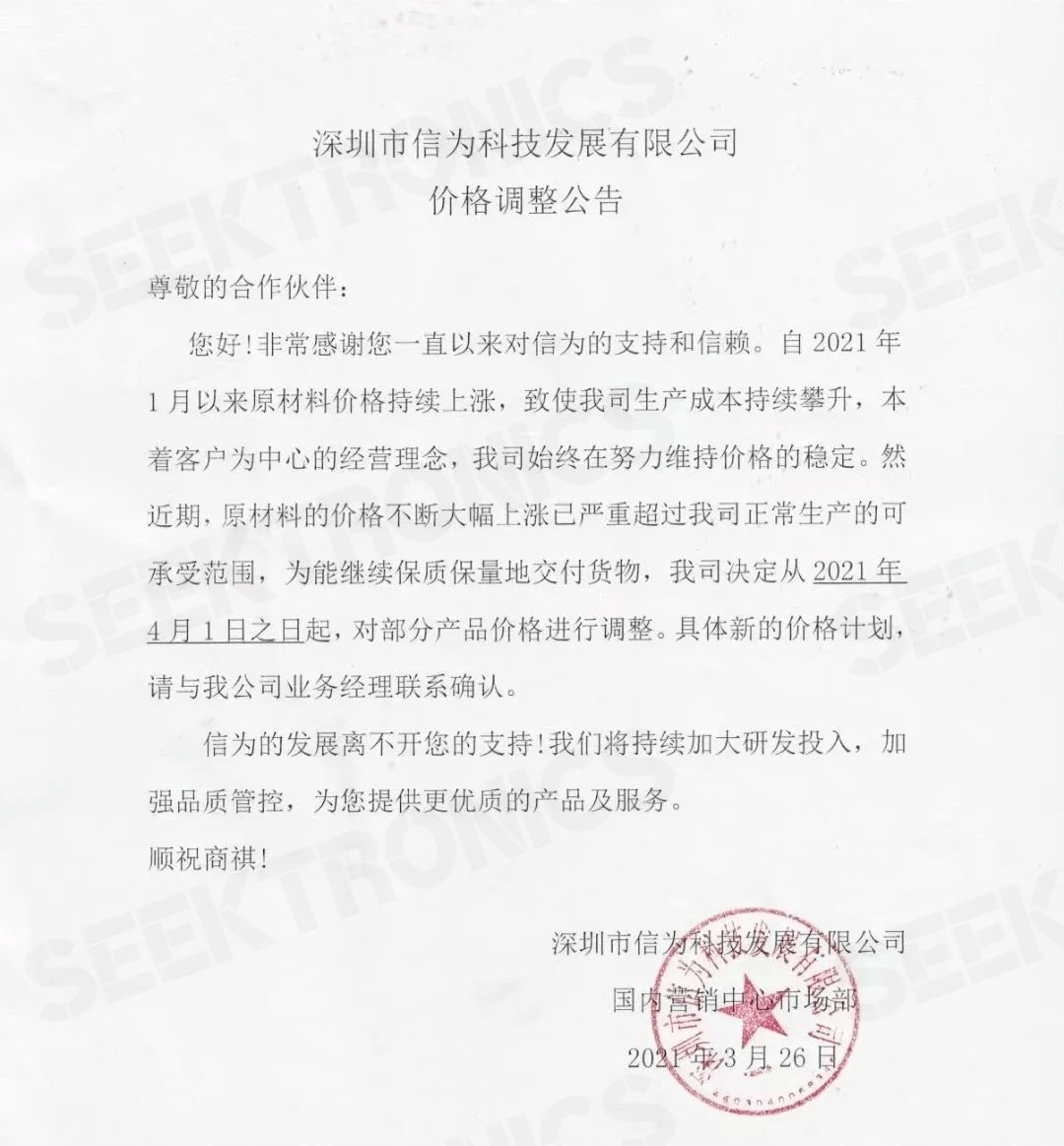 Unisoc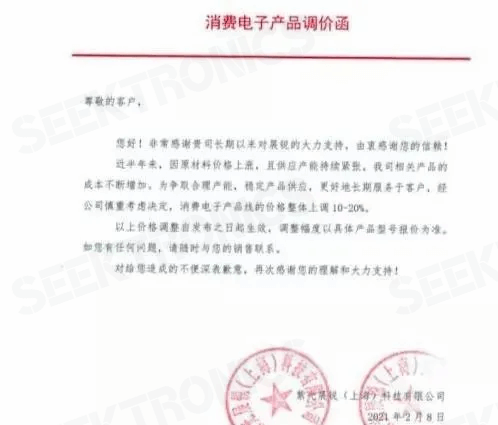 Depuw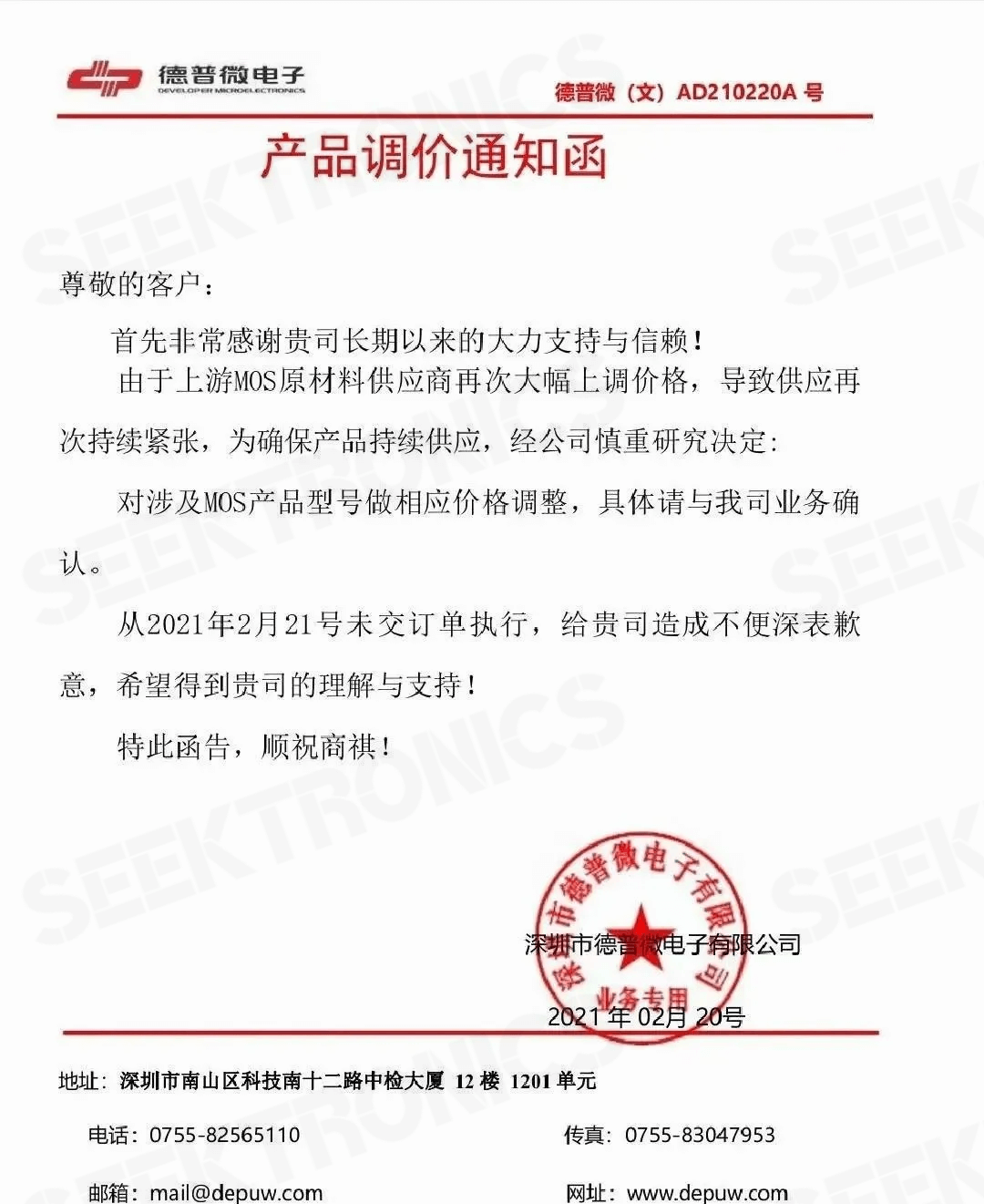 Tianma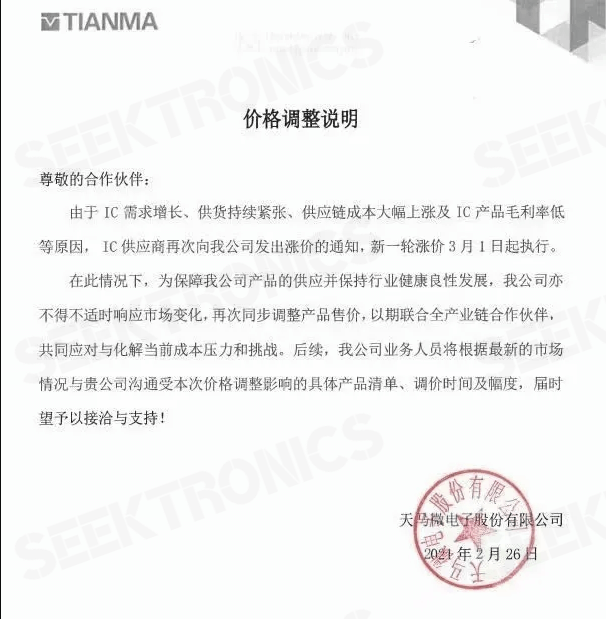 MARVELL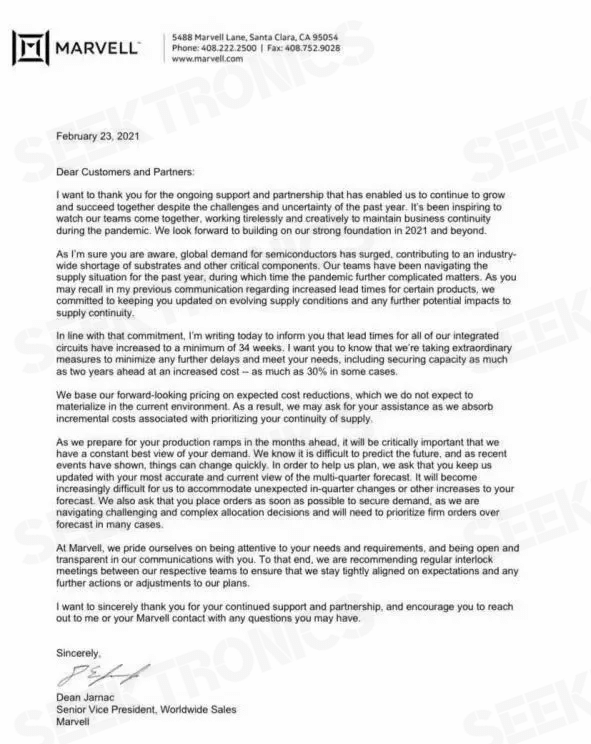 Injoinic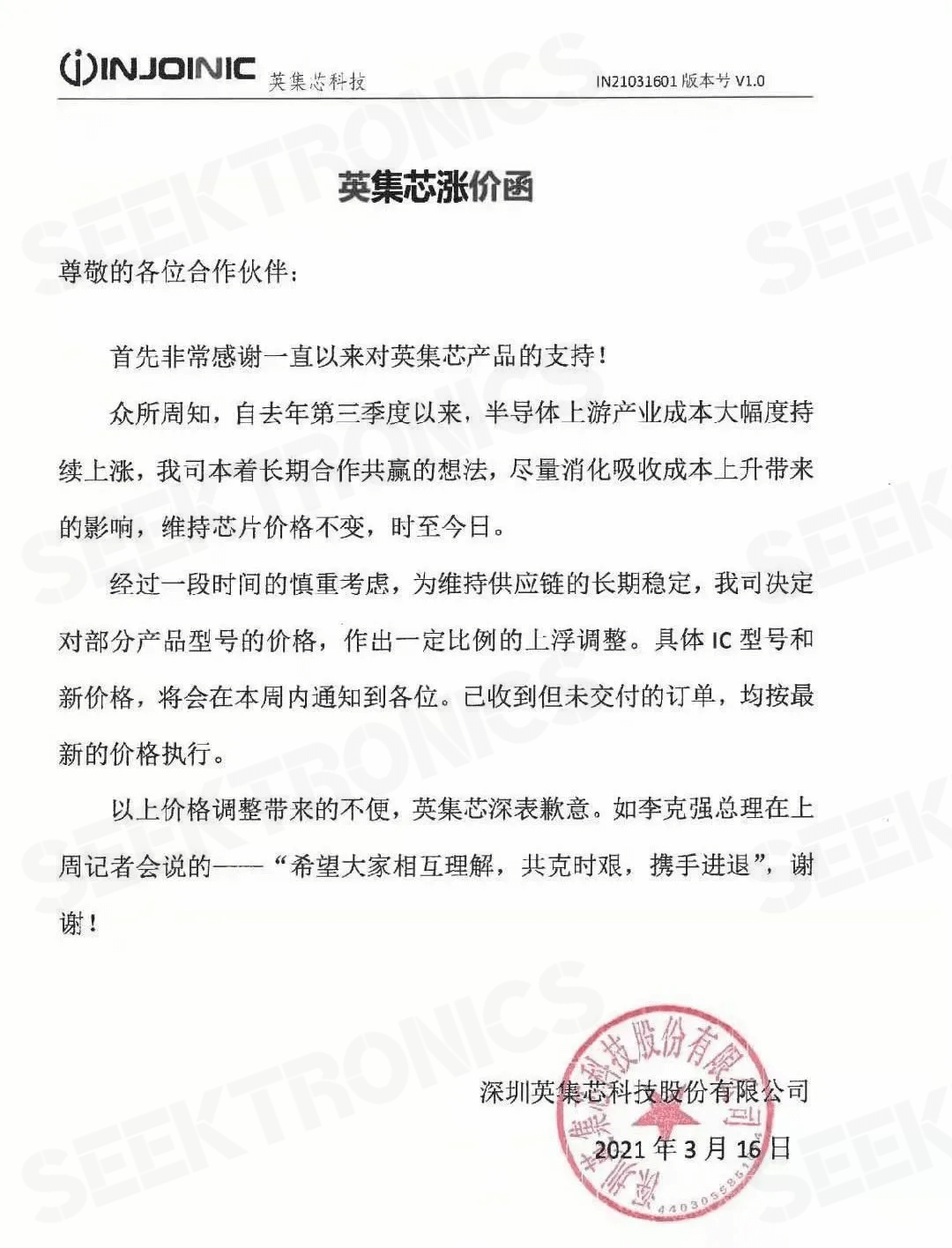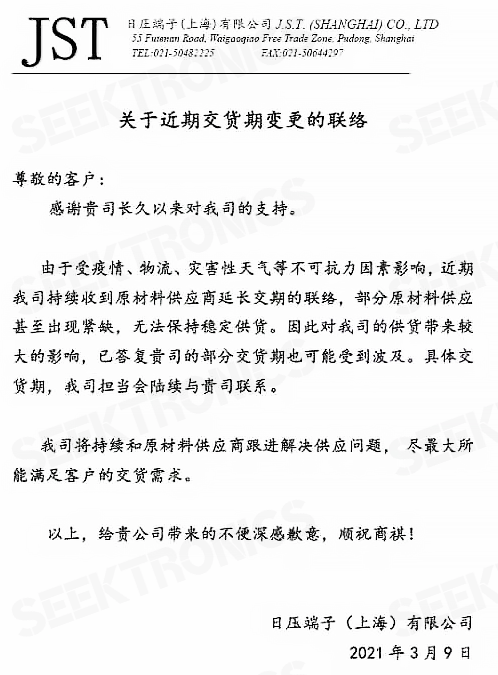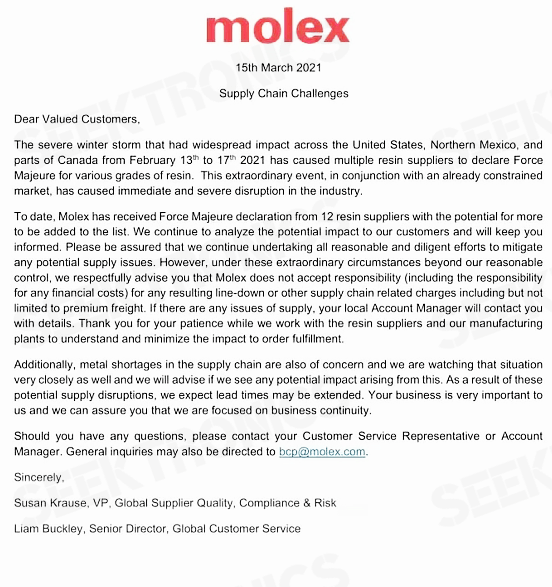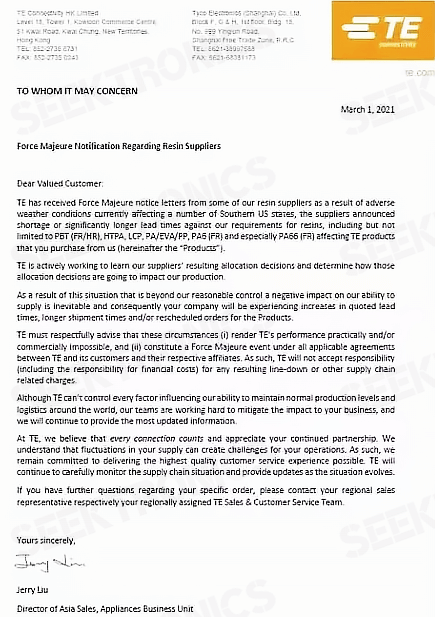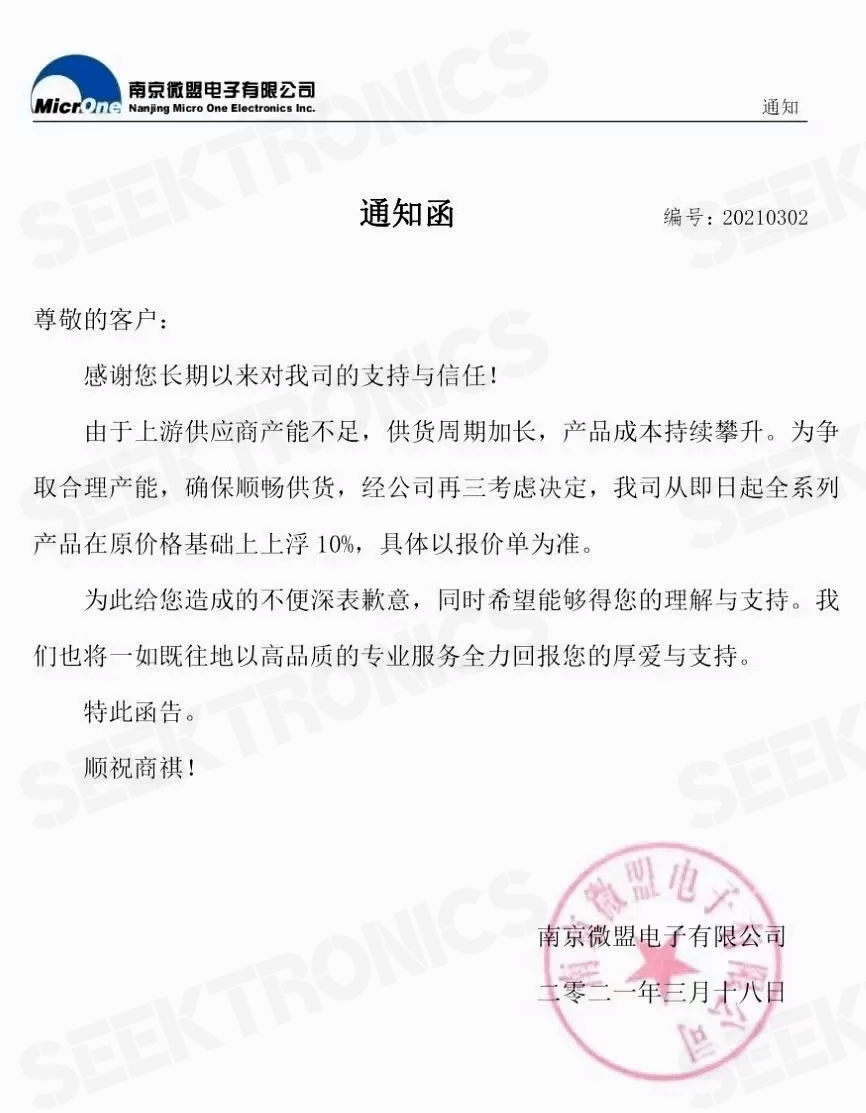 AMICCOM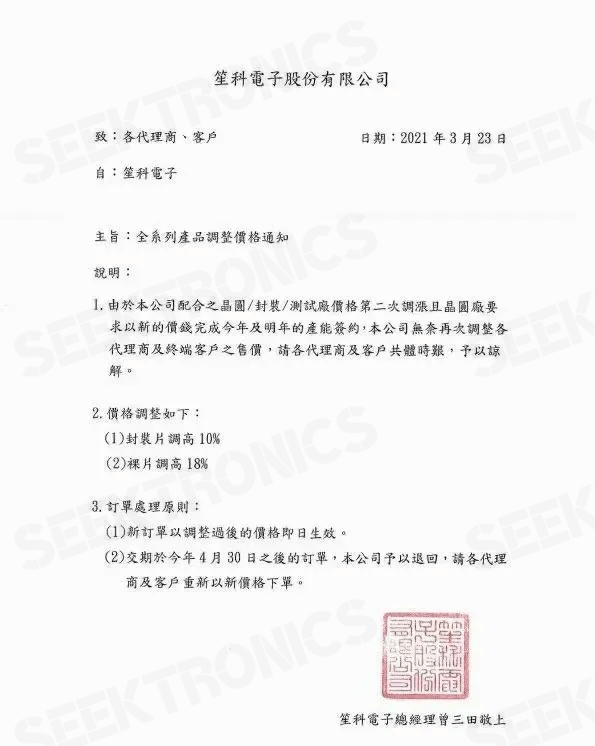 Kiwi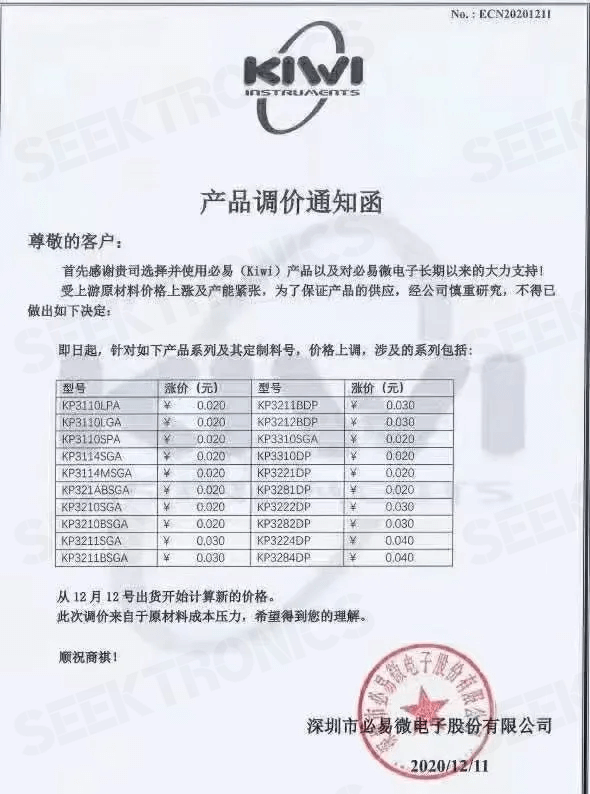 JinYu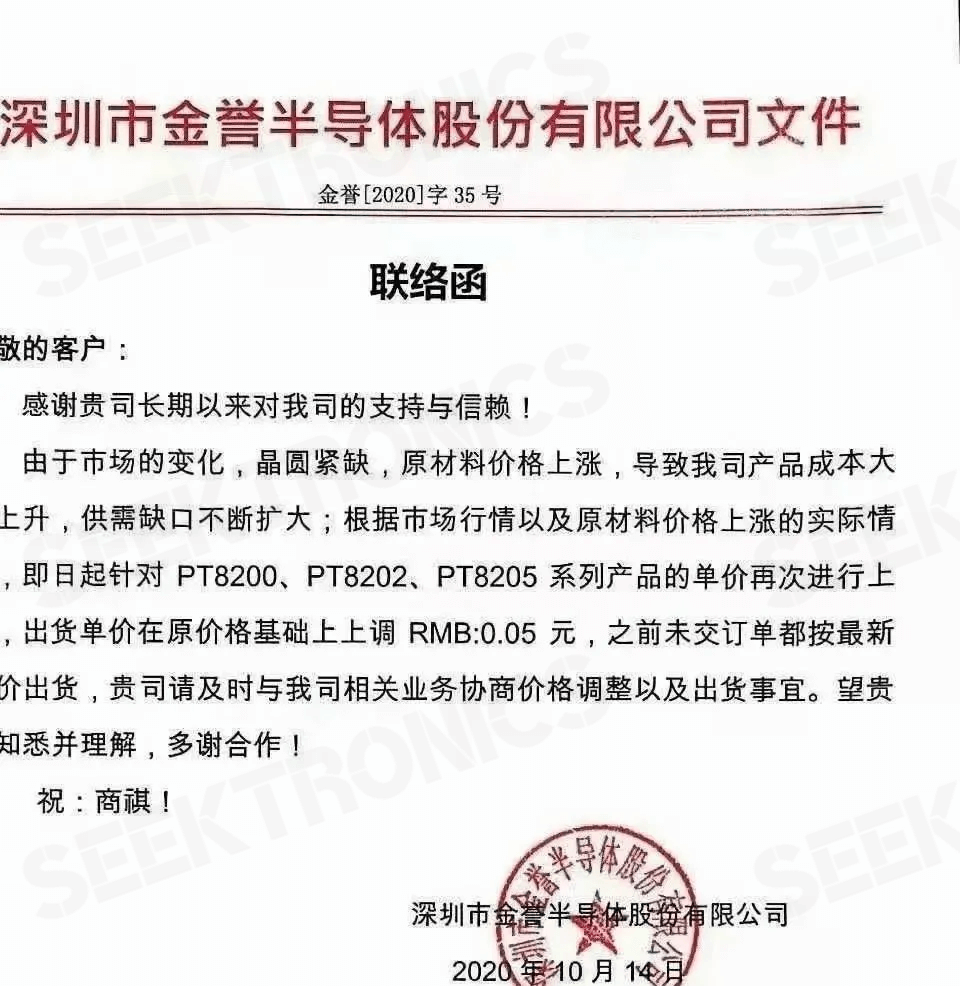 Chip Hope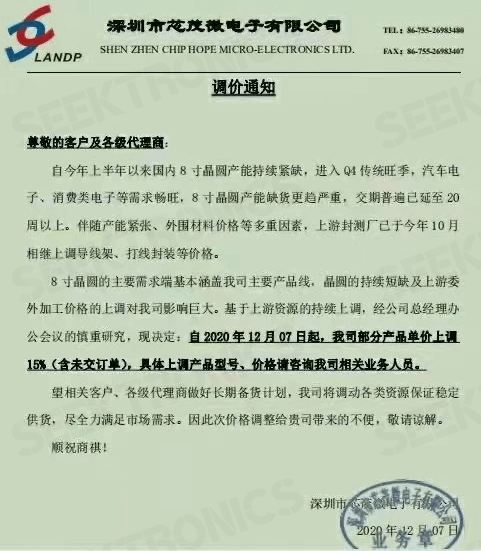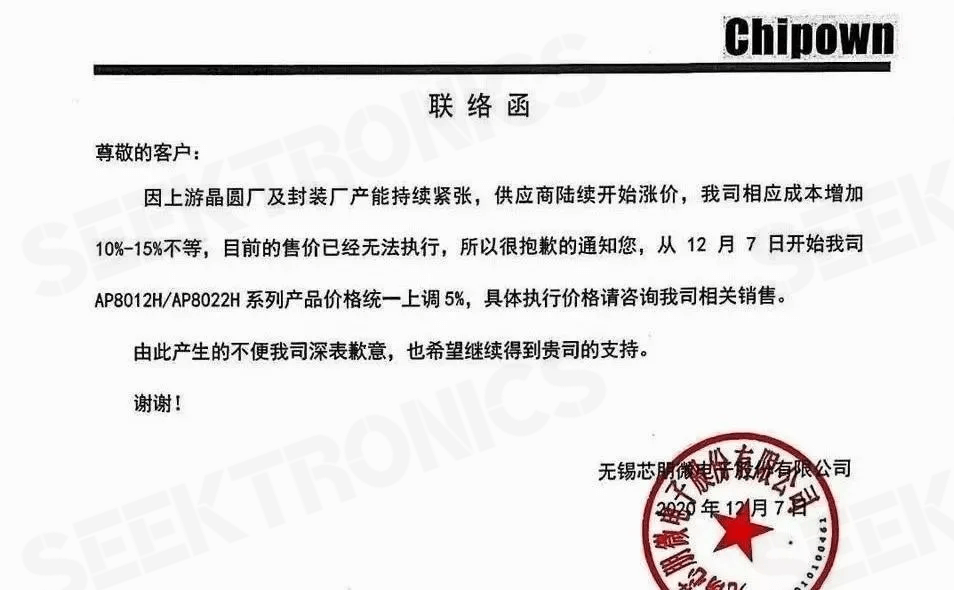 HK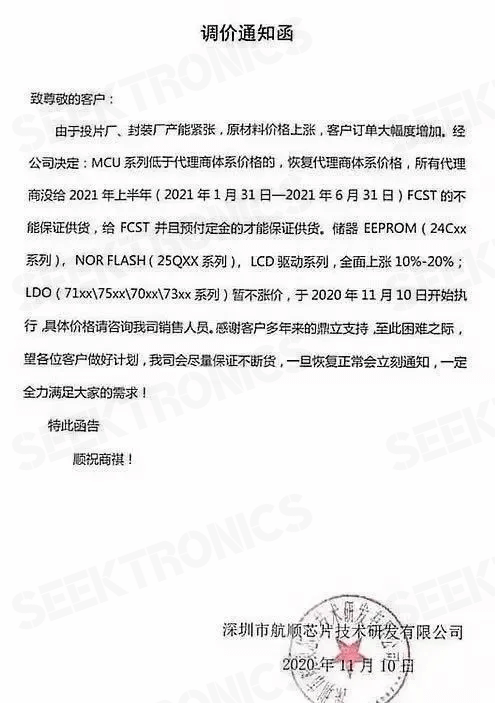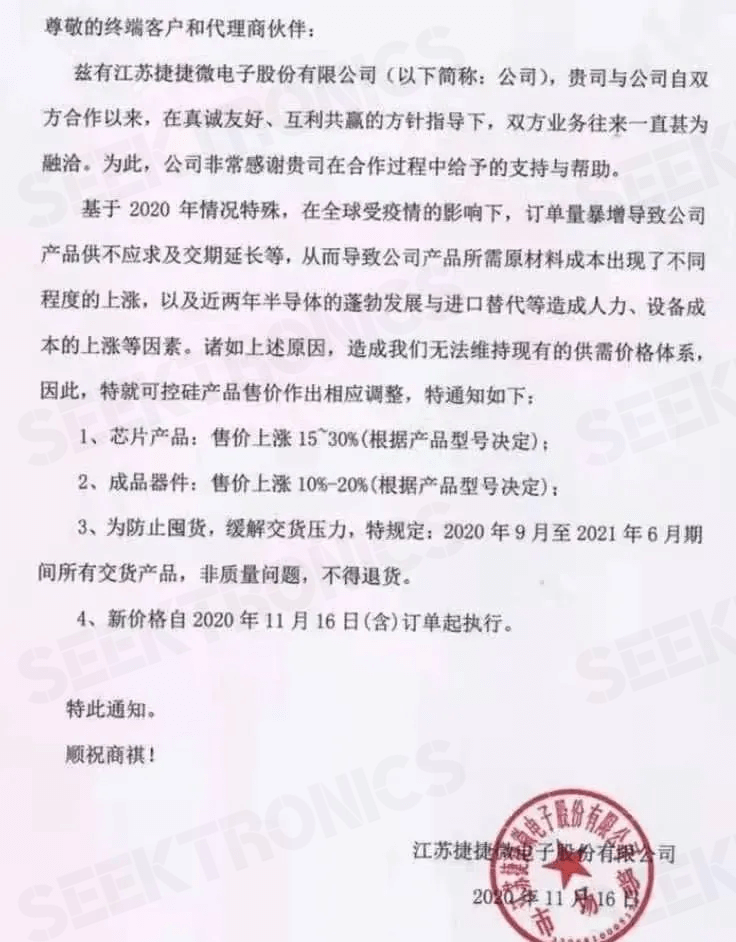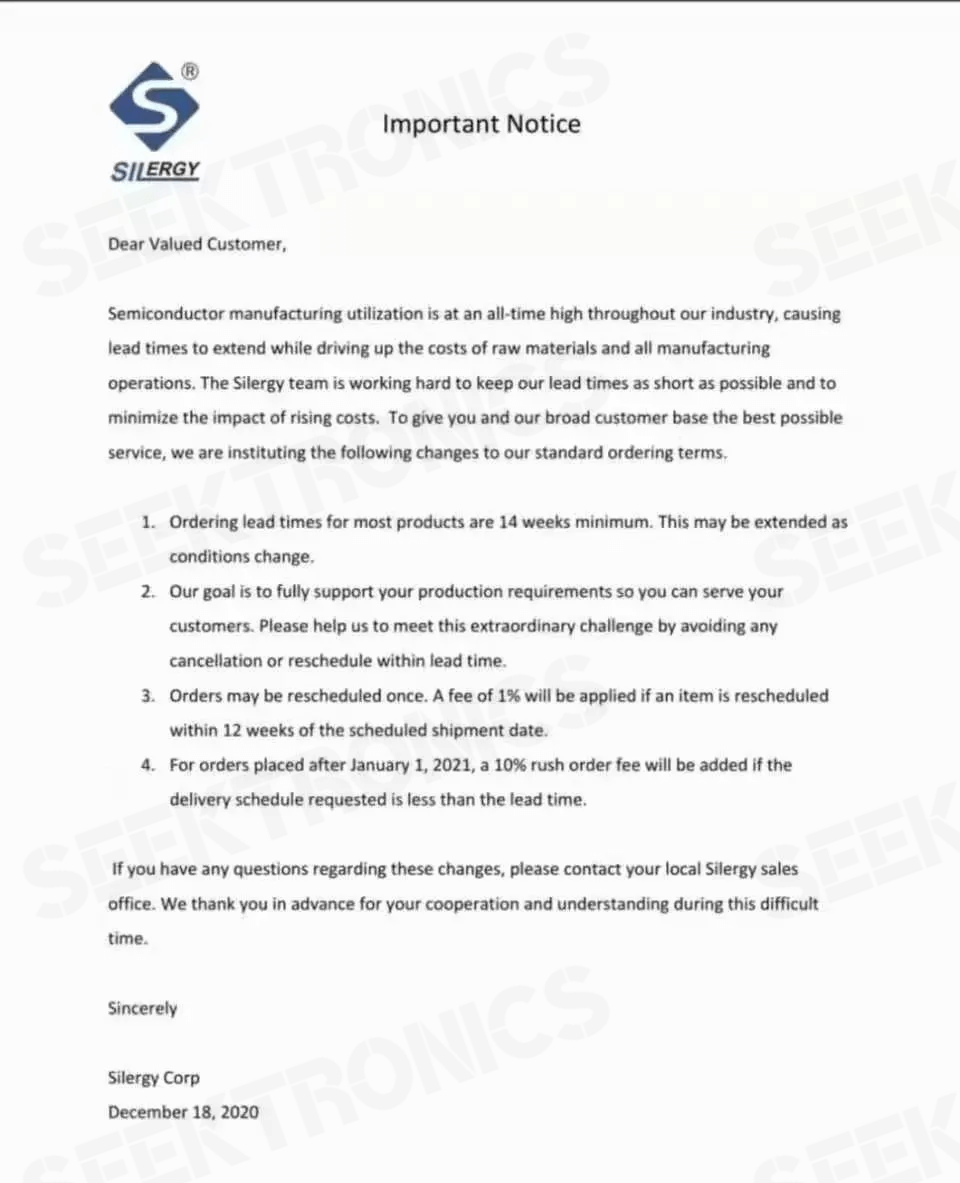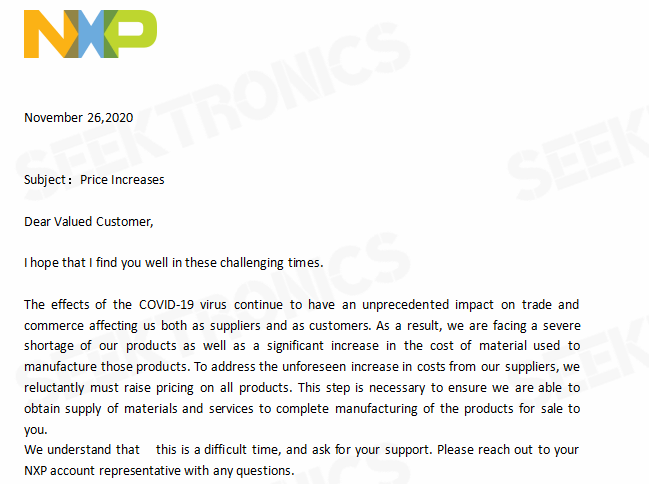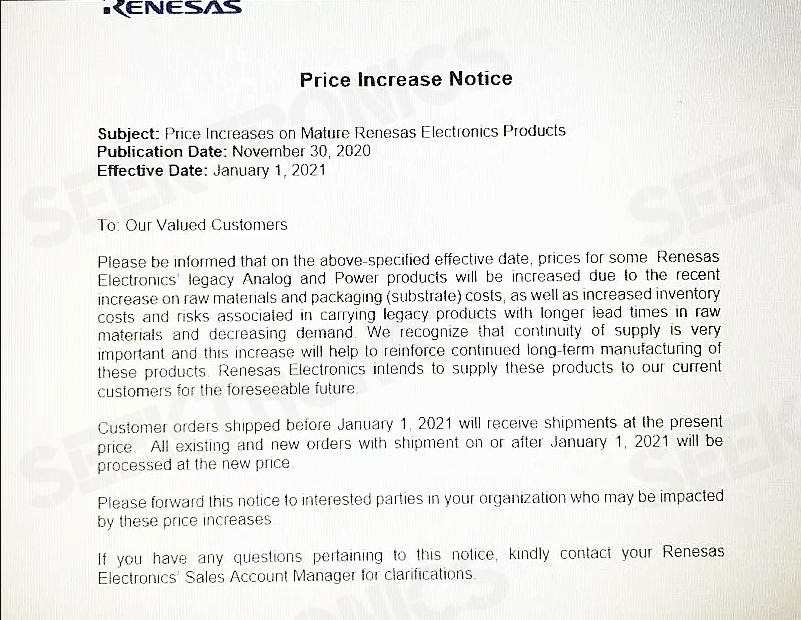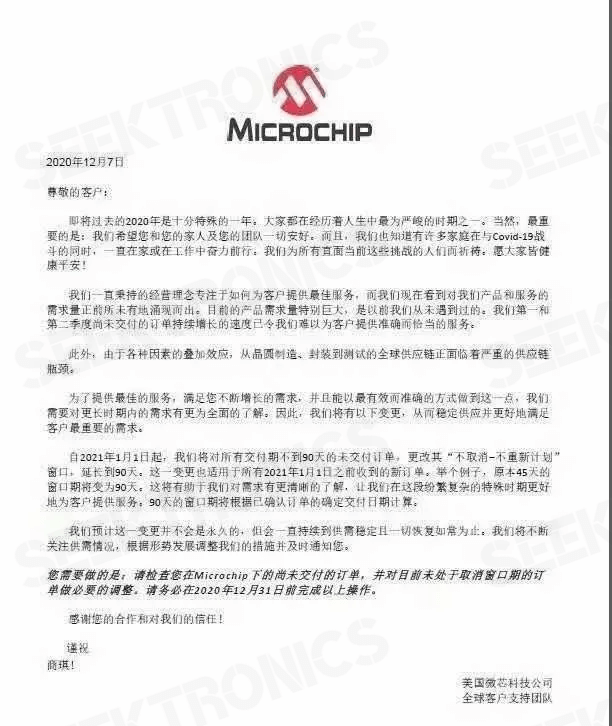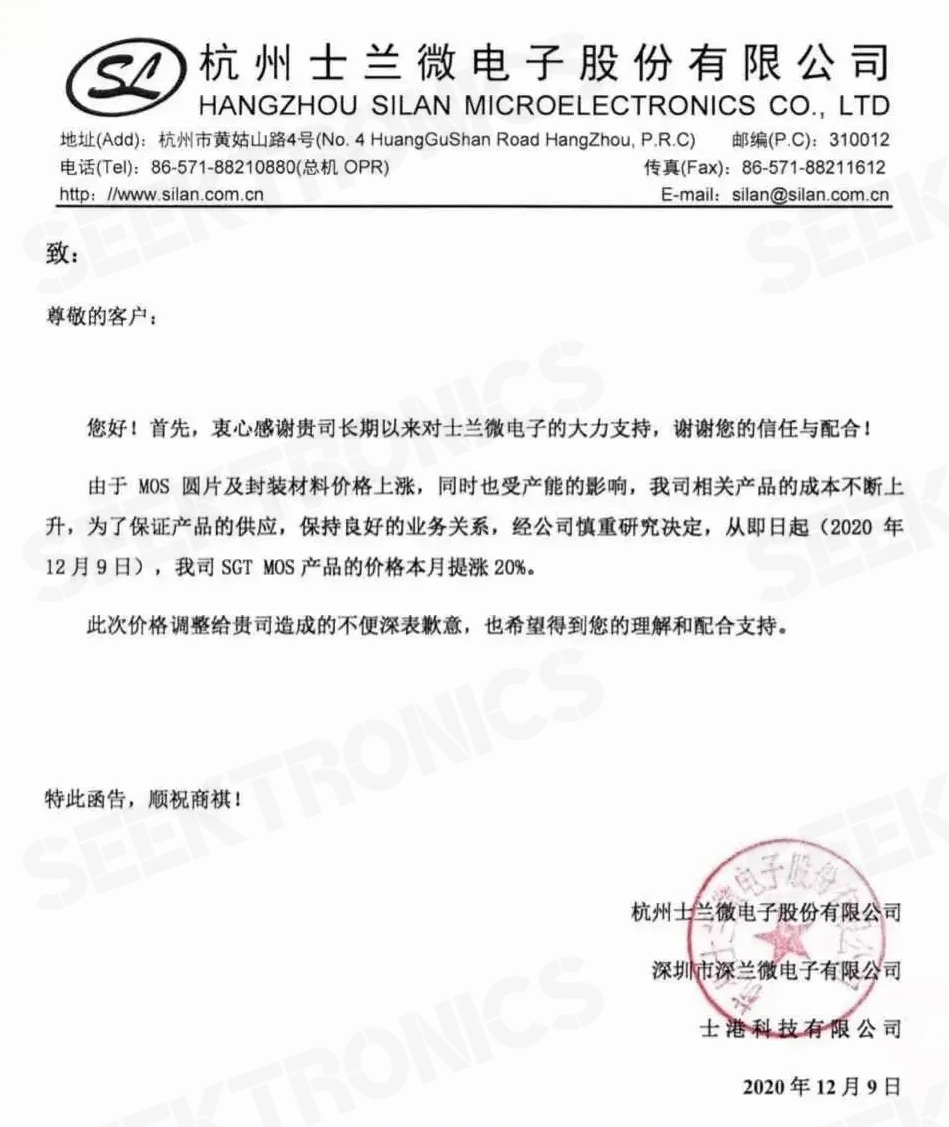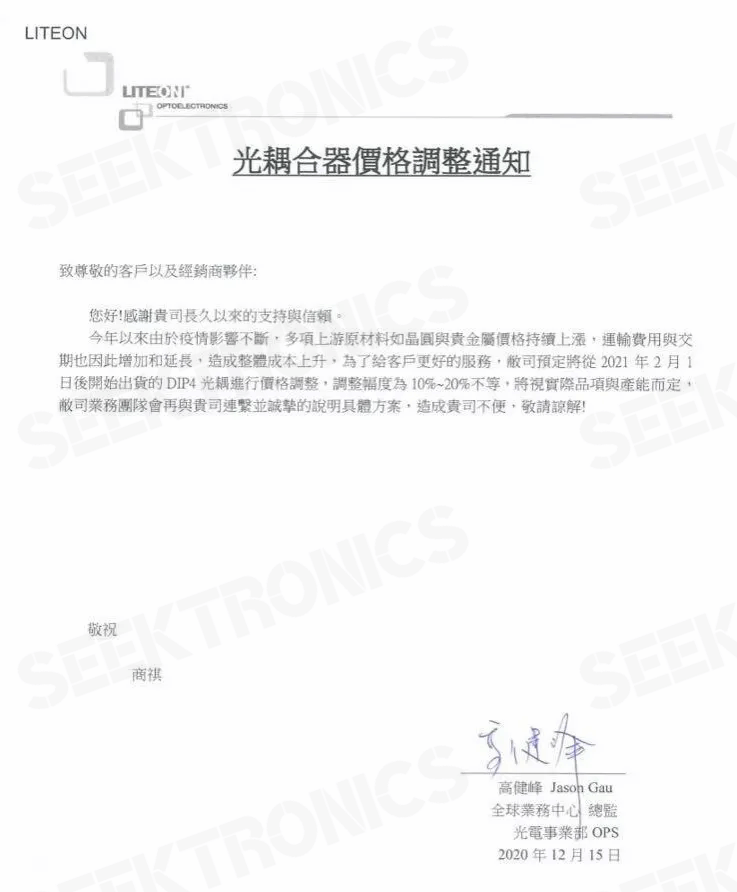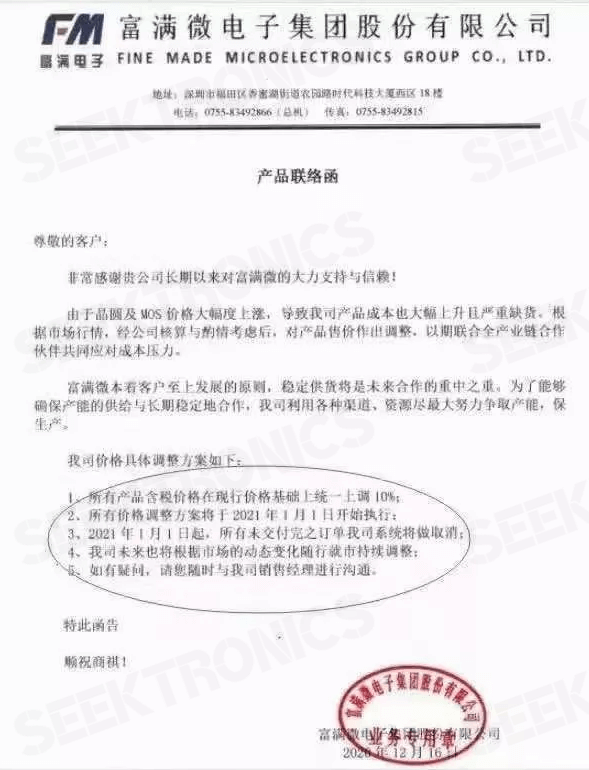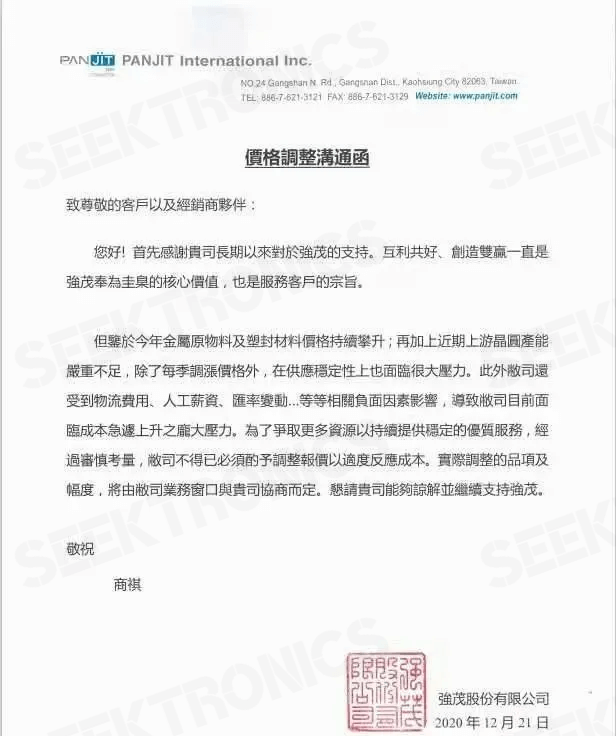 Goodix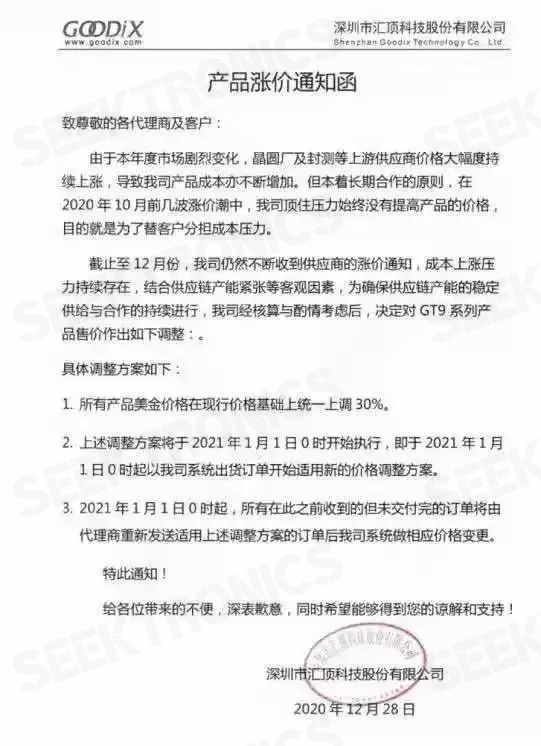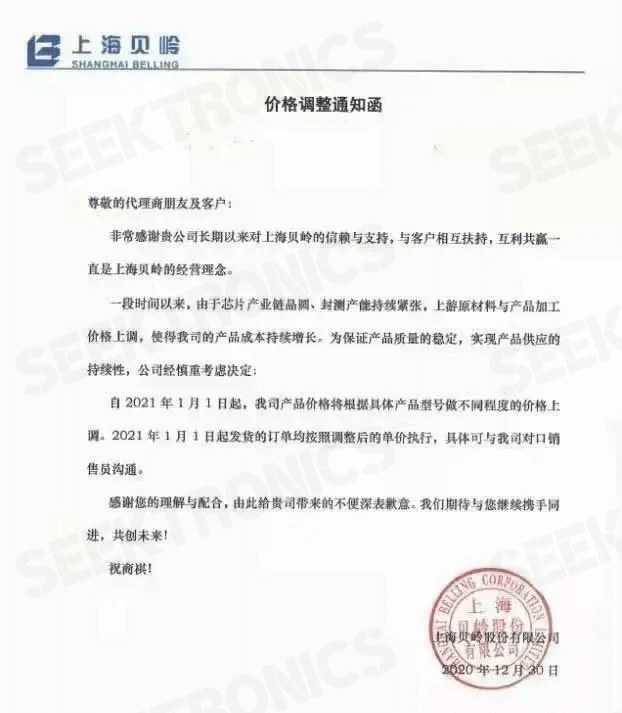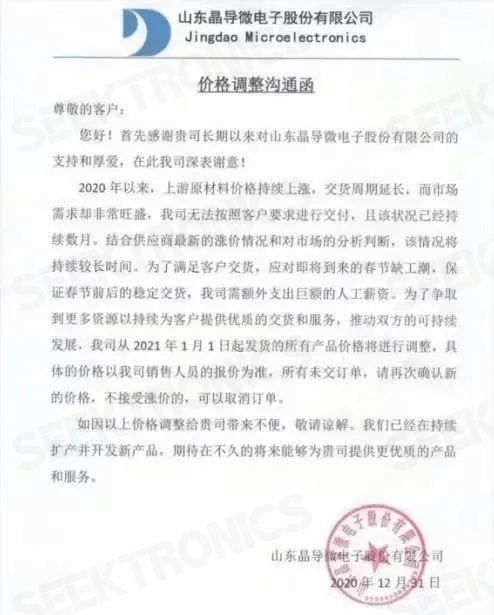 Crmicro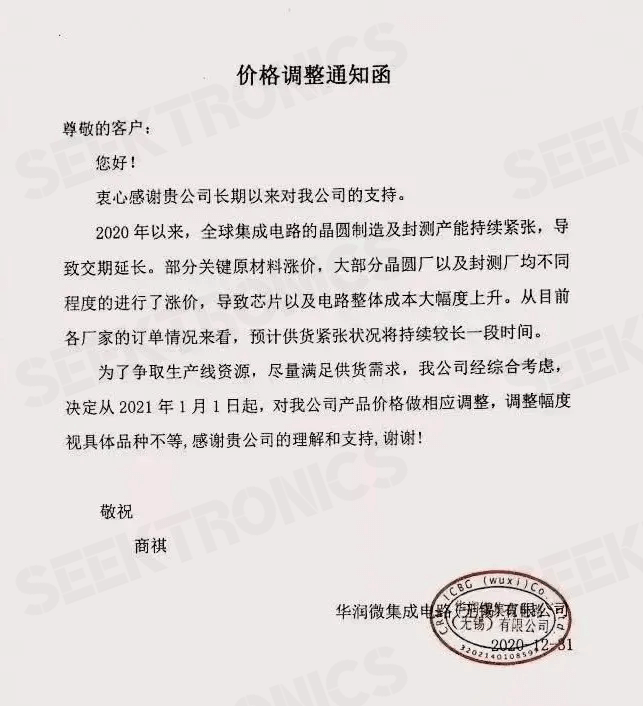 Yeestor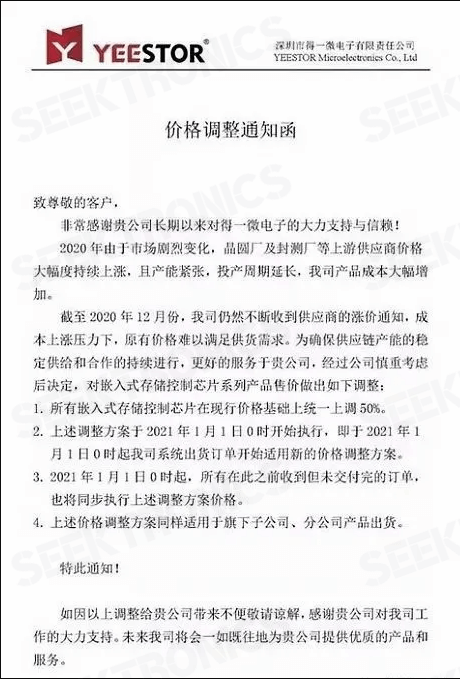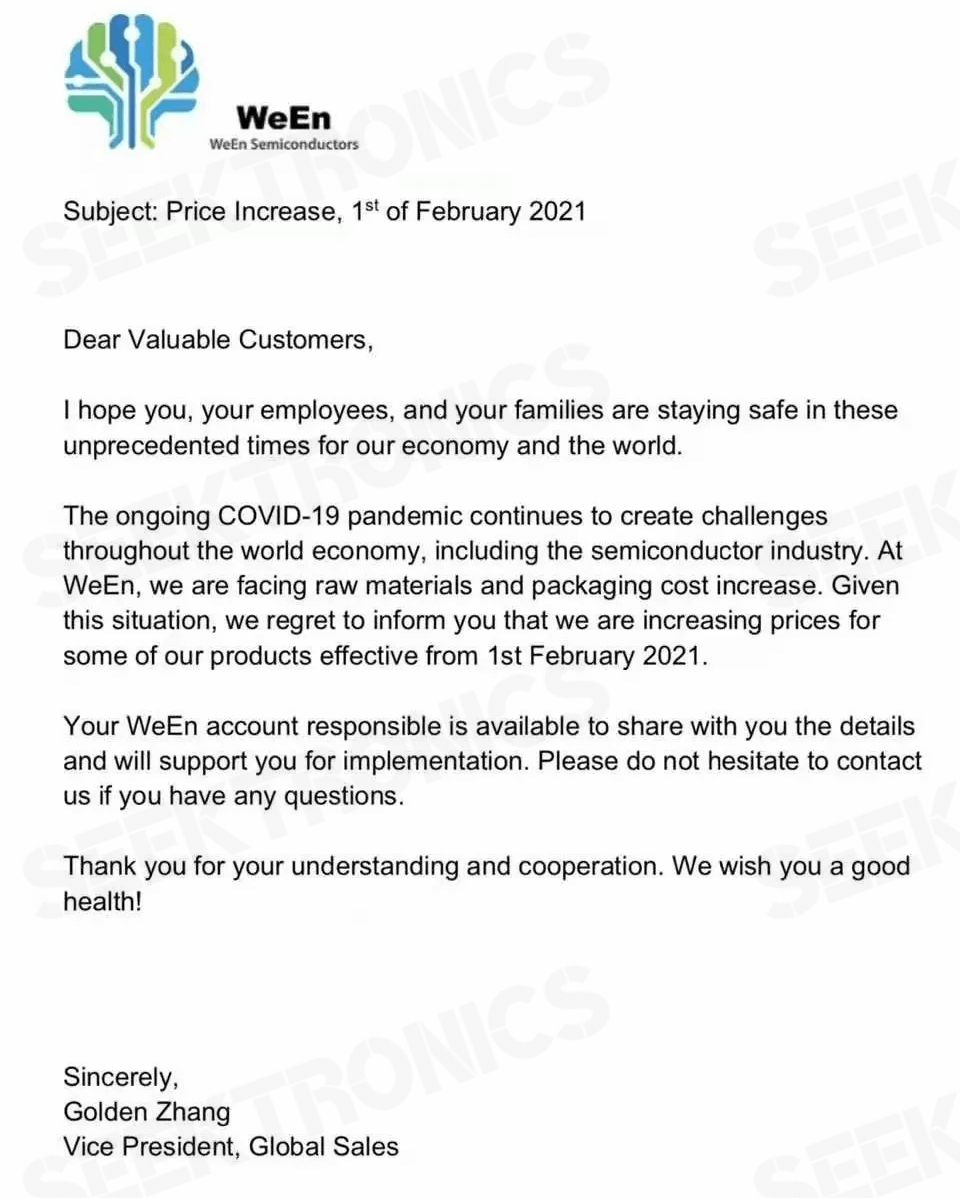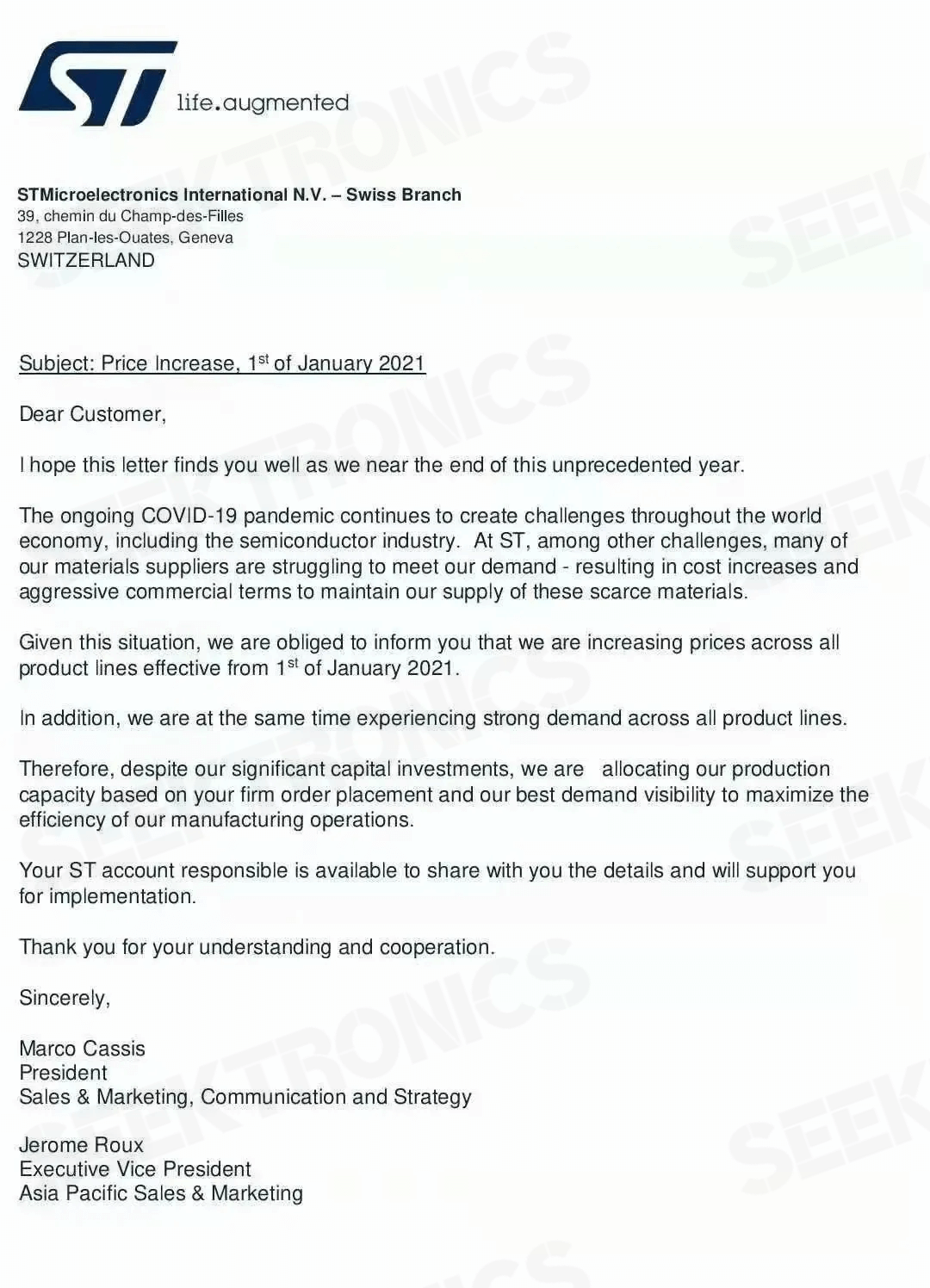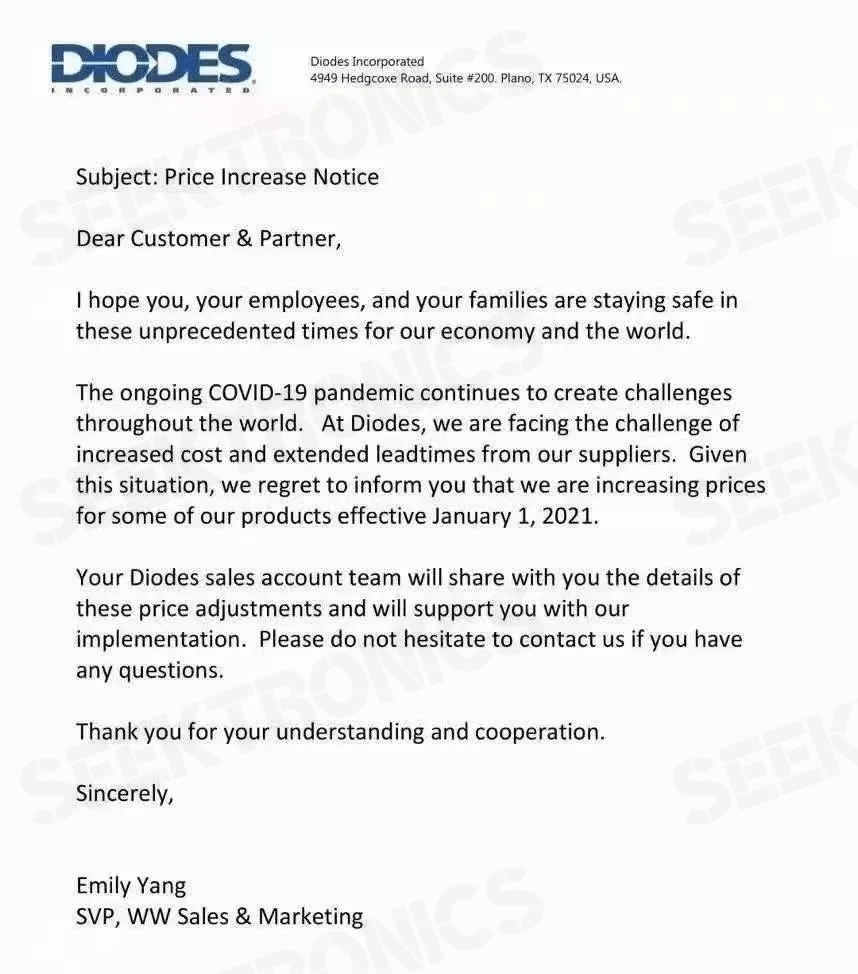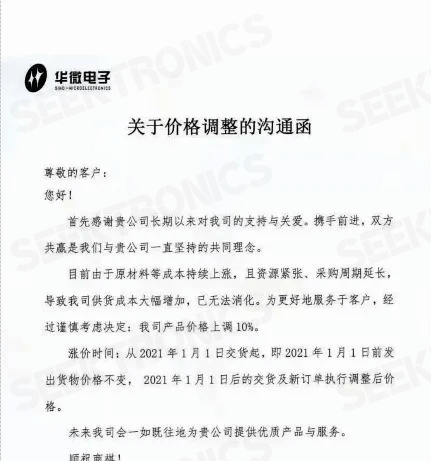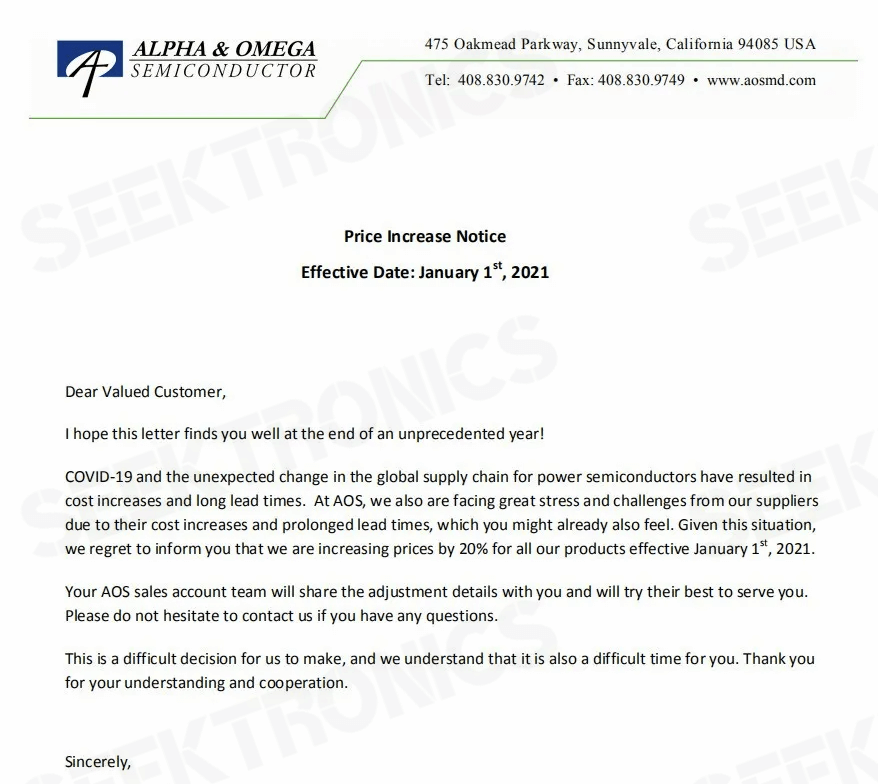 Xilinx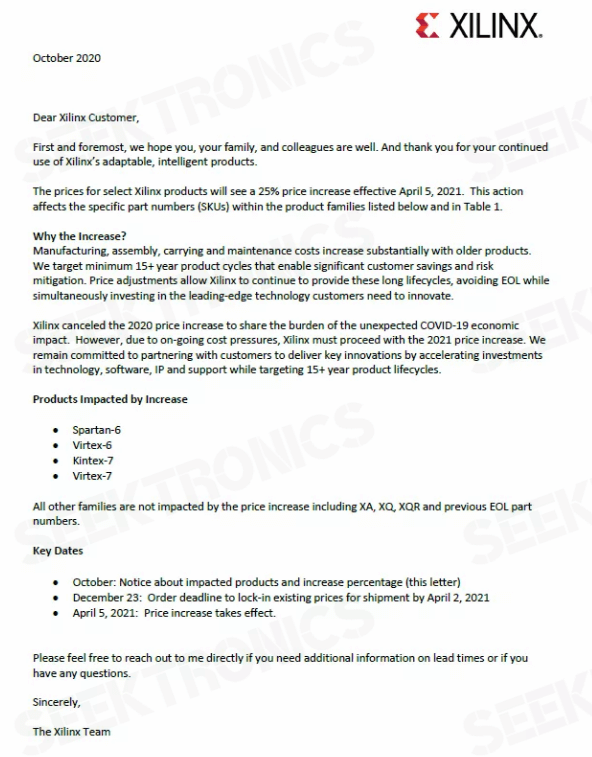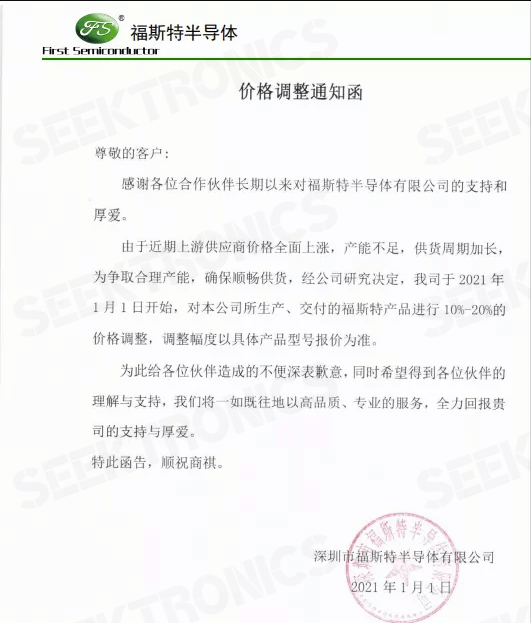 Gcore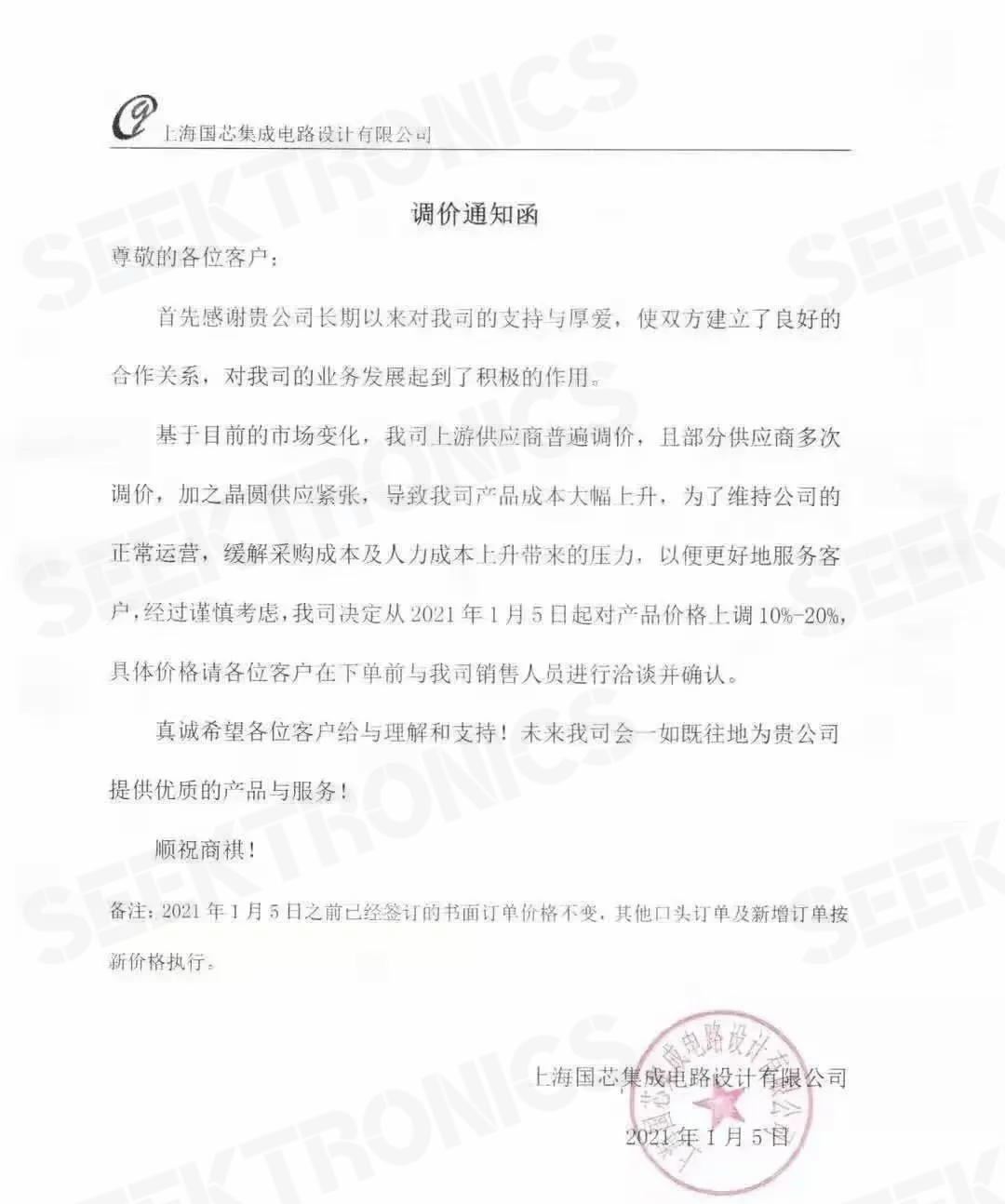 HDSC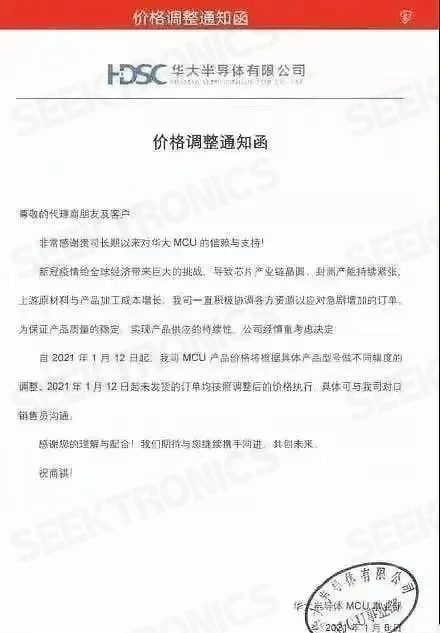 But besides price increase, some semiconductors will not be available at any price with extended periods as lead times of up to 52 weeks have been reported as shown in the table below.