Recently, Marvell Electronics (Marvell) issued a notice letter. The letter states that due to increased costs on the supplier side and other additional expenses, the price of its products will increase by 10% effective January 1, 2023.
In the notice letter, Marvell said that product supply issues have been alleviated and that it is now gradually reducing its backlog of orders. As of December 1, the lead time for most products has been reduced to 26 weeks (the 16-week lead time for Fibre Channel HBAs will remain unchanged). However, due to supplier cost increases and additional costs, Myman must increase product prices by 10 percent, effective January 1, 2023. However, the notification letter does not specify the relevant products and models, nor does it specify whether the price increase is across the board.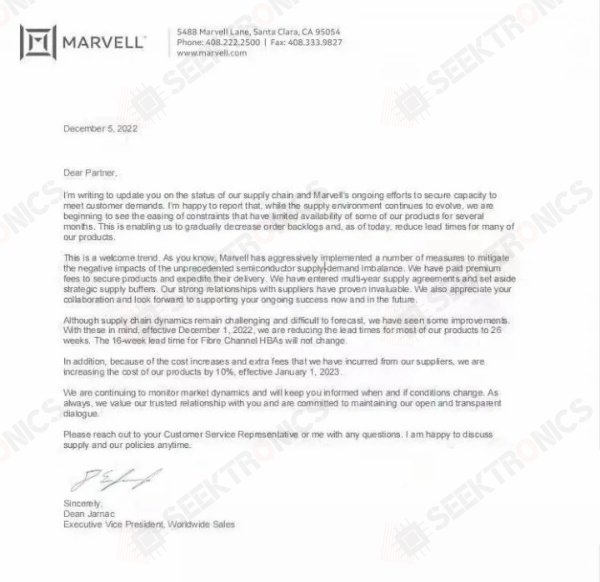 In addition to Marvell, AMD also issued a price increase letter in November, announcing price increases for its Xilinx Xilinx-branded FPGA products.
Prices will increase by 8% for Xilinx series products, 25% for Spartan 6 series products, and no change for Versal series products. New orders, inventory, backlog, and distribution orders will be transacted based on the price increase, effective January 9, 2023.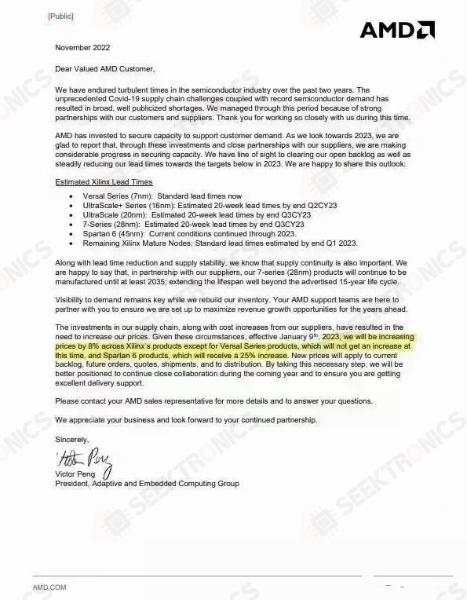 In addition, SILICON LABS (CoreTech) also sent notification letters to its customers and partners that it will increase product prices as supply chain costs continue to rise due to the global capacity crisis and general inflation in almost all industries.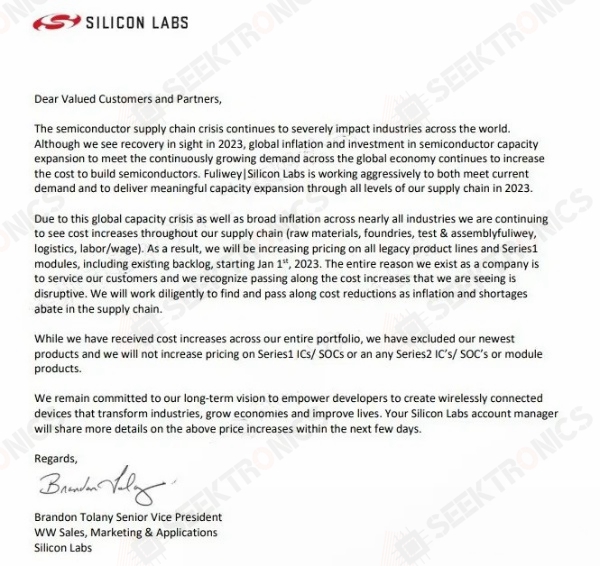 Starting January 1, 2023, CoreTech will increase the prices of all its existing product lines and Series1 series products, including the existing backlog of orders, the specific rate of increase is not disclosed. However, the price increase does not include 1Cs/Ocs, 2Cs/Soc and other new product lines. The current chip market overall in the downward channel, more in the environment of inventory, and demand is clearly differentiated, there are not many cases of large-scale price increases to the segmentation of the local, small price increases.